Dijon Pork Chops with Apples & Peaches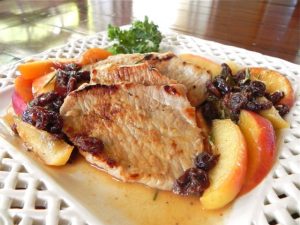 Author:
Maryann Ridini Spencer
8-10 pieces of boneless pork slices
2-3 T. Fresh rosemary sprigs
1 tsp. Italian seasonings
1 tsp. garlic salt
2-3 T. Extra virgin olive oil
1 ½ T. Dijon mustard
2-3 garlic cloves, diced
2 apples (Fuji, Gala – a sweet apple), cored and sliced leaving skins on
3 peaches, sliced
1 c. raisins
¾ c. apple juice
¼ c. chardonnay
In a skillet on the stovetop, add in olive oil and pork slices.
Sprinkle garlic salt and Italian seasonings over pork.
Cook pork slices until they are a light golden brown.
Add in apple juice, chardonnay, garlic and Dijon mustard, stir.
Add in sliced apple, peaches, raisins and fresh rosemary sprigs.
Simmer on low heat until the fruit is soft (but not falling apart).
When meat is done, serve immediately with cooked fruit on a pretty plate. Enjoy!
Recipe by
Maryann Ridini Spencer
at https://maryannridinispencer.com/dijon-pork-chops-with-apples-peaches-fresh-rosemary/