Banana Pineapple Coconut Muffins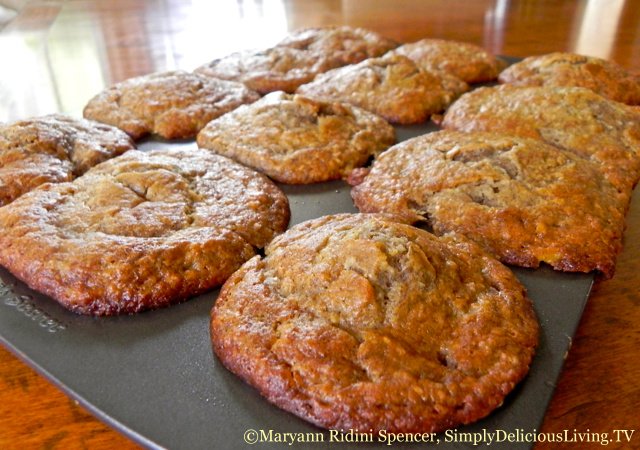 Author:
Maryann Ridini Spencer
1 ½ c. all-purpose flour (or Pure Pantry's Organic & Gluten Free Baking Mix)
¾ c. sugar
2 tsp. baking soda
¼ tsp. salt
2 T. cinnamon
¾ c. macadamia nuts (or walnuts), coarsely chopped
½ c. coconut oil
2 eggs
3 medium to large ripe bananas, mashed
1 c. pineapple, crushed
½ c. shredded sweet coconut
1 tsp. lemon extract
3 T. coconut milk
Preheat oven to 350 Degrees F.
In a bowl, stir together flour, sugar, baking soda, salt, cinnamon, and nuts.
In another bowl, with an electric mixer, beat together oil, eggs, bananas, pineapple, shredded coconut, lemon extract and coconut milk. Mix.
Add in half of dry mixture to wet mixture. Mix. Add in second half of dry mixture and mix.
Spoon batter into greased muffin tins. Muffin tins will be full.
Bake in the oven for 20-25 minutes.
After 25 minutes, insert a toothpick into the center of one of the muffins. If the toothpick comes out clean, the muffins are done.
Cool muffins in the muffin tin for approximately 5 minutes.
Serve warm or at room temperature with honey or butter.
Recipe by
Maryann Ridini Spencer
at https://maryannridinispencer.com/banana-pineapple-coconut-muffins/