French Toast Paradise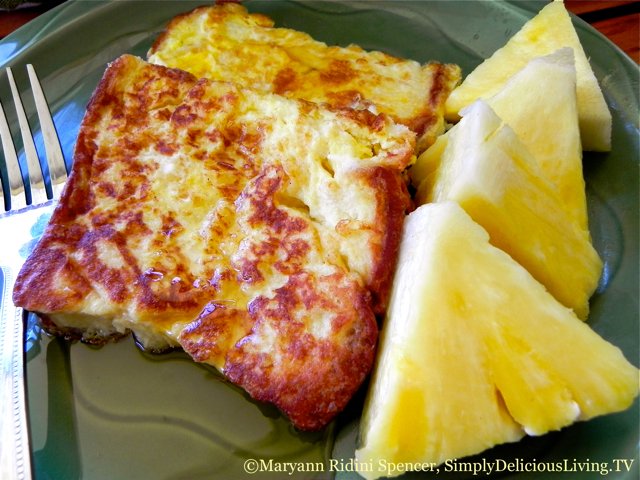 Author:
Maryann Ridini Spencer
8 slices of Hawaiian Punalu'u Traditional Sweetbread (or if you can't find Hawaiian Sweetbread, use Challah bread)
4 large eggs
½ c. coconut milk (approximately)
honey (for syrup)
ground cinnamon (for garnish)
shredded sweet coconut (optional)
coconut oil
Slice Hawaiian Bread in ½″ slices.
In a skillet on the stovetop over medium heat, drizzle coconut oil to coat the bottom of the pan.
In a large bowl, whisk eggs and milk.
With a fork, dip a piece of sweetbread into the egg and milk mixture, coat well on both sides.
Place coated bread into skillet.
Repeat with each slice of bread.
Cook bread until lightly golden on both sides.
Serve immediately with honey and cinnamon.
You can also sprinkle coconut flakes over the top of the dish.
Serve with fresh cut pineapple, strawberries, blueberries or banana.