Mango Lime Chicken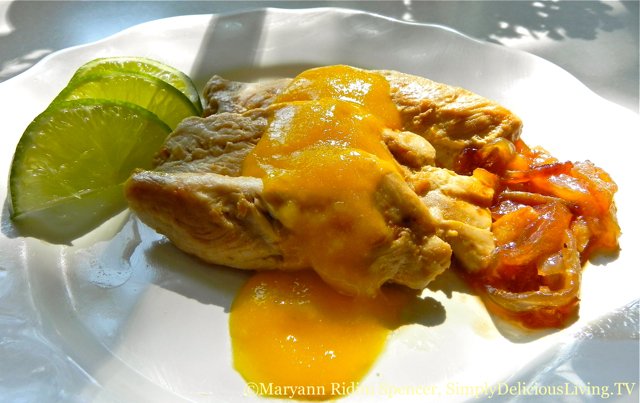 Author:
Maryann Ridini Spencer
Boneless, skinless chicken breasts
3 garlic cloves, diced
one small onion, sliced
1 c. chardonnay
1½ T. extra virgin olive oil
lemon pepper to taste
Mango Lime Pure
1 large mango, peeled and sliced.
juice of ½ squeezed fresh lime
zest of one lime
¼ tsp. ground ginger
1 tsp. honey
In a skillet on the stovetop over medium heat, add in oil, garlic and onion slides. Sautée until slightly golden.
Add in chardoonay. Add in chicken and lemon pepper. Cook chicken until golden. While the chicken is cooking, make the Purée. Serve chicken topped with mango lime purée and sautéed garlic and onions.
Mango Lime Purée In food processor, put the meat of 1 mango, juice of ½ squeezed fresh lime, lime zest, ¼ tsp of ground ginger, 1 tsp. honey, blend well. Serve purée over cooked chicken breasts.