Flatbread Pizza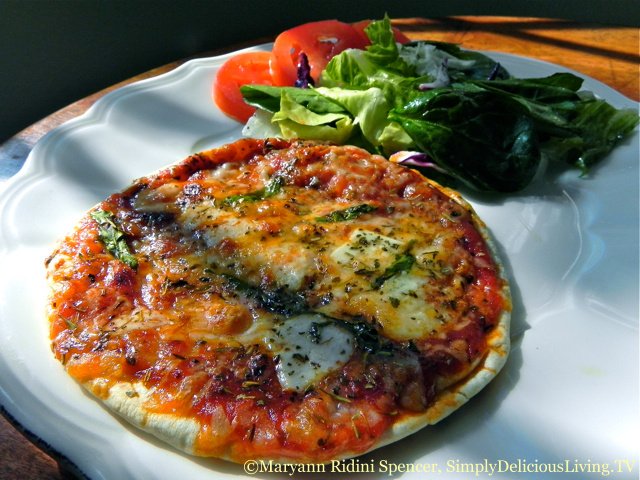 Author:
Maryann Ridini Spencer
4 pieces Middle Eastern flatbread
2 c. of your favorite organic pasta sauce or my Quick and Easy Marinara Sauce
1 c. Woolwich Dairy Goat Mozzarella cheese (sliced in small circles)
½ c. fresh basil leaves, chopped
Italian seasoning
¼ c. diced onion
2-3 garlic cloves, diced
1 c. Jarlsberg cheese, shaved
½ c. shaved Parmesan/Romano cheese blend
garlic salt and pepper
Preheat oven to 350°. Cover each piece of flatbread with pasta sauce.
Place Woolwich Mozzarella cheese rounds strategically over the top of each pizza.
Sprinkle basil, Italian seasoning, diced onions and garlic, shaved Jarlsberg cheese, shaved Parmesan/Romano cheese blend, and garlic salt and pepper over each pizza.
Bake pizzas for approximately 15 minutes. Crust will be golden and pizza will puff up.
Once taken out of the oven, the pizza will deflate. Serve immediately with a large green side salad. Try my Walnut Blue Salad or Very Green Salad.
Recipe by at https://maryannridinispencer.com/flatbread-pizza/