Shrimp Scampi Ridini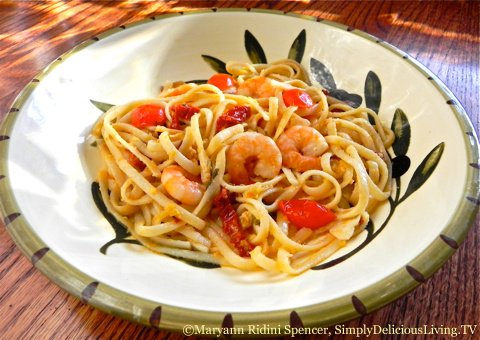 Author:
Maryann Ridini Spencer
1 ½ lbs Jumbo Cooked Shrimp, shelled, deveined
Linguine for 4 people
2 T. butter
½ small onion, diced
4 large garlic cloves, diced
1 c. cherry tomatoes
5 basil leaves, chopped
juice of one freshly squeezed lemon
1 T. lemon zest
¾ c. sundried tomatoes (in olive oil, sliced)
Parmesan and Romano cheese
garlic salt
garlic powder
red pepper flakes
extra virgin olive oil
Wash shrimp and place out on a paper towel to dry.
Wash and cut cherry tomatoes in half, set aside.
Prepare linguine to package instructions.
In a large skillet over medium heat on the stovetop, drizzle a little olive oil over the bottom of the pan. Add in onion and garlic sauté until lightly golden.
Add in tomatoes, basil, shrimp and butter.
Sauté until tomatoes are soft (not mushy) about a 2-3 minutes.
Add in lemon juice, lemon zest and sundried tomatoes. Stir.
Sprinkle a little Parmesan and Romano cheese over the skillet. Stir once.
Add in garlic salt, garlic powder and red pepper flakes to taste.
Remove skillet from the heat and serve mixture over cooked linguine.
Serve immediately with extra Parmesan and Romano cheese.