Pistachio Encrusted Swai with Pesto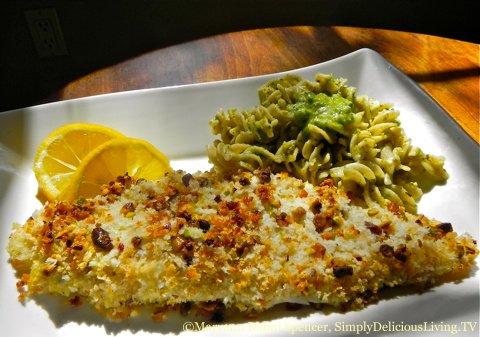 Author:
Maryann Ridini Spencer
4 Swai fillets
½ c. panko bread crumbs
1¼ c. ground pistachio pieces
2 large eggs
4 T. coconut milk (or regular milk)
coconut oil
2 large lemons
Preheat oven to 425 degrees F.
Cover a cookie sheet with tin foil (cinch at edges).
Drizzle coconut oil over tin foil.
Please washed fish fillets on top of the greased foil.
Cut one lemon in quarters. Squeeze lemon juice all over and around the fish.
Bake fish in oven for 5 minutes.
Remove fish from oven and let stand for a few minutes to cool.
In a large bowl, add eggs and coconut milk. Beat eggs and milk with a fork until blended.
In another large bowl, add in panko bread crumbs.
Place pistachio pieces in a zip lock bag. Pound pistachio pieces with a wooden mallet until pistachios are ground into small pieces.
Pour pistachio pieces into the panko bread crumbs and mix well.
With a fork, take one of the fillets and dip it into the egg and milk mixture. Coat on both sides.
Then dip the fillet into the breadcrumb and pistachio mixture. Coat well on both sides. Repeat with all fillets.
Drizzle a little more coconut oil onto the tin foil covered sheet. Place fillets on top of the foil.
Squirt some fresh squeezed lemon juice over the fillets and bake fish in the oven for another 10 minutes until fish is done.
Once fish is done, serve immediately with extra lemon wedges and a generous portion of my Simply Pesto! Top pesto with a little Parmesan/Romano cheese. Enjoy!
Recipe by at https://maryannridinispencer.com/pistachio-encrusted-swai/