Pork Chops with Pears and Cabernet Sauce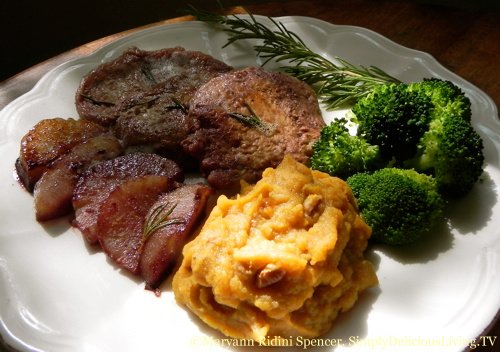 Author:
Maryann Ridini Spencer
4 pork chops fillets
1 c. of sliced pears in their own juice (with no extra sugar added. Reserve ½ c. of the pear juice)
fresh rosemary sprigs
½ c. Cabernet wine
1 tsp. Dijon mustard
1 T. honey
garlic salt and pepper to taste
extra virgin olive oil
In a skillet on the stove top over low heat, drizzle extra virgin olive oil over the bottom of the pan.
Add in pork fillets.
Shake garlic salt and pepper over the tops of the fillets.
Spread rosemary sprigs over the tops of the fillets.
Add in sliced pears and ½ c. of the reserved pear juice.
Cook fillets until they are slightly golden on both sides.
In a small bowl, add in Cabernet, mustard and honey. Whisk together then pour over the fillets and cook fillets for approximately 2 minutes.
Arrange cooked fillets on a large plate with seared pears and pour the remaining cabernet sauce over the fillets. Serve immediately!
Serve this dish with steamed broccoli (and a splash of fresh squeezed lemon) and my Pumpkin Pecan Mashed Potatoes. (Recipe at http://SimplyDeliciousLiving.com and SEARCH "Pumpkin Pecan Mashed Potatoes")
Recipe by
Maryann Ridini Spencer
at https://maryannridinispencer.com/pork-chops-with-pears-and-cabernet-sauce/