Simple Chicken Curry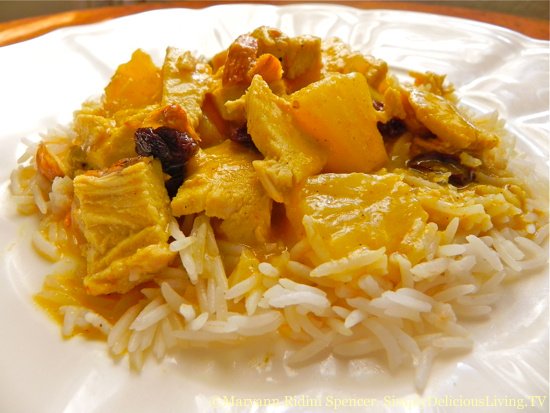 Author:
Maryann Ridini Spencer
4 boneless, skinless chicken breasts, diced
1½ T. coconut oil
Curry Sauce:
2 T. coconut oil
2-3 garlic cloves, diced
1-2 T. yellow or red curry powder
1¼ c. coconut milk (plain)
2 T. flour (all-purpose or gluten free All Purpose Baking Flour from Pure Pantry
¼ tsp. ground ginger
¼ tsp. ground cinnamon
1 c. chunky pineapple, diced
1 tsp. raw honey
⅓ c. sliced raw almonds
⅓ c. raisins
2 T. fresh squeezed lemon or lime juice
dash garlic salt
dash red chili pepper flakes
In a skillet on the stovetop over medium heat, sauté diced chicken in coconut oil until lightly golden on both sides. Set skillet aside.
In another skillet on the stovetop over medium heat, add oil, garlic cloves and curry powder. Stir until mix becomes fragrant (about 20 seconds).
Add in the following ingredients stirring after each addition: coconut milk, flour, ground ginger, cinnamon, pineapple, honey, almonds and raisins.
Stir mixture until sauce becomes somewhat thick (about 1-2 minutes).
Stir in fresh squeezed lemon (or lime) juice.
Add in garlic salt and red chili pepper flakes to taste. Stir.
Add in cooked chicken to the mixture.
With a spoon, pour curry over chicken.
Let simmer over low heat for approximately 5 minutes.
Serve immediately over jasmine or basmati rice.
Recipe by at https://maryannridinispencer.com/chicken-curry/