Easy Berry & Apple Galette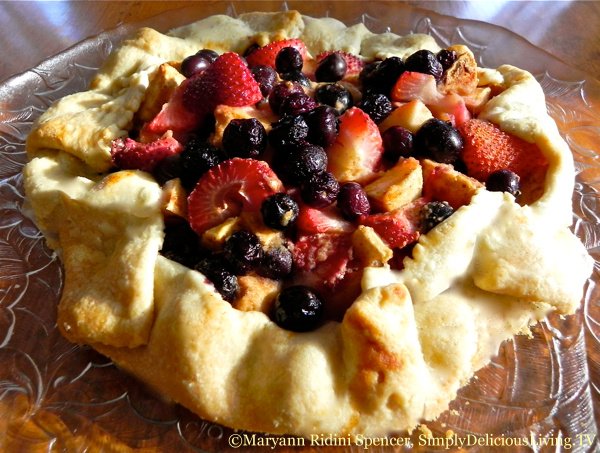 Author:
©2013 Maryann Ridini Spencer
Pre-packaged (organic or all natural) pie crust
2 c. fresh blueberries
2 c. fresh strawberries, sliced
1 c. apples (Fuji or other sweet apple)
2 T. flour & ( 1 T. more for dusting parchment paper)
2 T. organic sugar
1 tsp. lemon extract
1 T. honey
1 tsp. cinnamon
Preheat oven to 350 degrees F.
Unroll pastry dough (at room temperature) to package instructions.
Cut a piece of wax or parchment paper the size of the bottom of the cookie pan you'll be using to bake the galette. Place paper on top of the cookie pan and set aside.
Peel, core and cube the apple.
Slice strawberries.
Place fruit into a large bowl with lemon extract. Toss.
Add in 2 T. flour, sugar and cinnamon to fruit. Toss.
Lightly dust 1 T. flour on top of the wax or parchment paper sitting on the cookie pan.
Unroll the pastry dough onto the paper.
Place the fruit mixture in the center of the dough keeping a 1 inch border.
Drizzle honey over the top of all the fruit.
Fold up edges of the dough around the fruit (overlapping edges on to each other) forming a circle.
Bake galette for 55 minutes until edges of the galette are lightly brown and the crust is crisp.
Serve dessert hot or at room temperature – by itself or with a dollop of ice cream or whipped cream!
©2013 Maryann Ridini Spencer/SimplyDeliciousLiving.com
Recipe by at https://maryannridinispencer.com/easy-berry-apple-galette/