Butternut Squash Ravioli with Sweet Sausage, Spinach & Sundried Tomatoes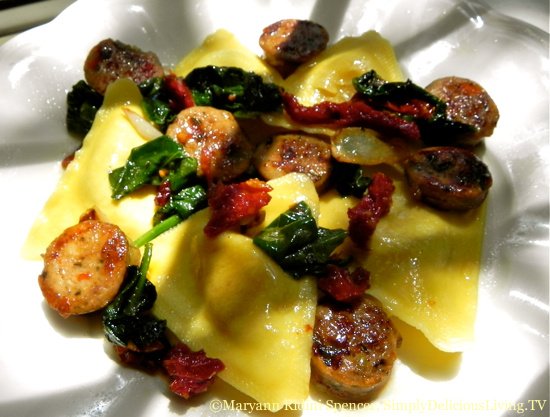 Author:
Maryann Ridini Spencer
Package of Brat Hans organic Sweet Italian Chicken Sausage
1 T. extra virgin olive oil
Package of organic Butternut Squash Ravioli
2-3 large garlic cloves, diced
½ small white onion, sliced
½ c. walnuts, diced
garlic salt
lemon pepper
oregano (fresh or dried)
4 c. fresh organic spinach leaves
½ c. julienne sliced sundried tomatoes in olive oil
fresh lemon juice
Slice sausages into small rounds.
In a skillet on the stovetop over low heat, add in 1 T. extra virgin olive oil.
Place sausage pieces and cook until both sides of the sausage are golden. Once sausages are cooked, remove from pan and set aside on a plate.
Cook ravioli to package instructions (approximately 4-5 minutes).
To the skillet (without washing it first), add in garlic, onions and walnuts. Sauté mixture until slightly golden.
Add in spinach, and a few dashes of garlic salt, lemon pepper and oregano.
Mix and cook mixture for a minute or two until spinach has wilted.
Add in sundried tomatoes in olive oil and sausage pieces and cook for another minute.
Drain ravioli.
Place 4-5 ravioli on a plate. Then top with spinach and sausage mixture. Spritz the dish with a little fresh lemon juice.
Serve immediately!
Recipe by
Maryann Ridini Spencer
at https://maryannridinispencer.com/butternut-squash-ravioli-with-sweet-sausage-spinach-sundried-tomatoes/