Cranberry Apple Crisp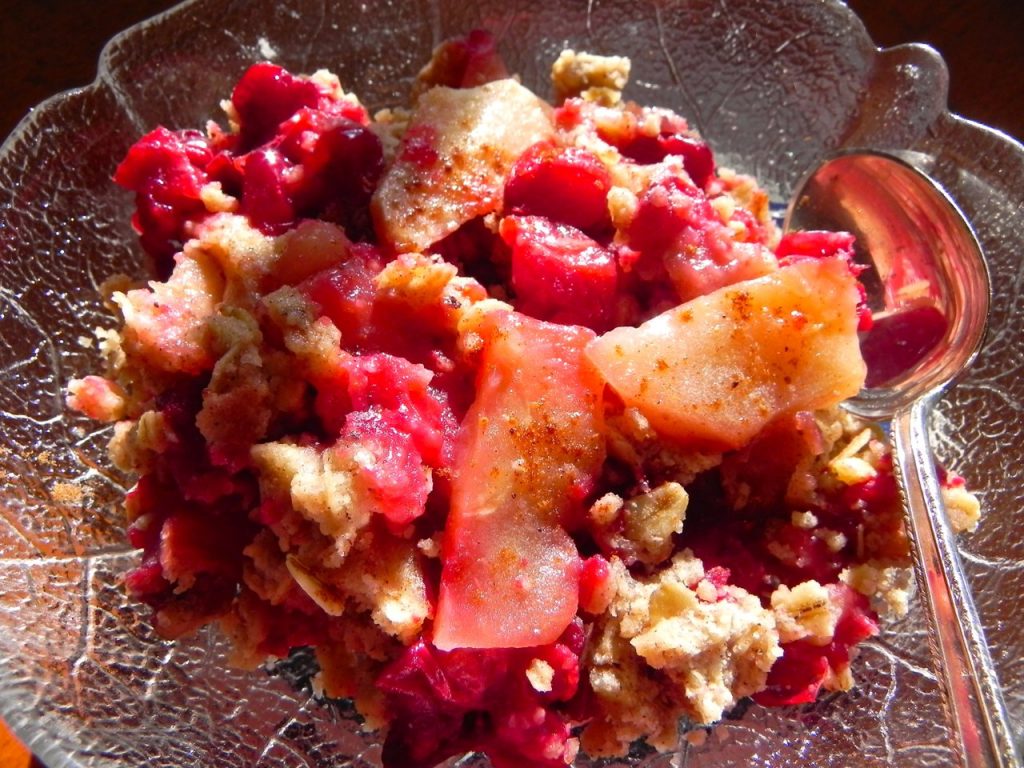 Author:
Maryann Ridini Spencer
4-5 large apples (4 c. approx.) - Gala, Fuji or other sweet apple, peeled and sliced
1 – 12 oz. bag cranberries (fresh or frozen) or dark cherries or blueberries**
1 T. freshly squeezed orange juice
1 T. freshly squeezed lemon juice
1 tsp. lemon extract
1 c. organic, whole wheat flour
¼ c. organic sugar
½ c. organic oats
1 tsp. ground cinnamon
1 tsp. pumpkin pie spice
¼ tsp. ground cloves
⅓ c. butter (room temperature)
3 T. honey
⅓ c. walnut pieces
coconut oil
coconut oil spray (or extra butter)
Heat oven to 350 degrees.
Grease a 10-inch round Corning Ware dish (1.5 " depth approximately) with coconut oil.
In a large bowl, add in sliced apples.
Add in orange and lemon juice, lemon extract and fresh cranberries* and mix.
Set aside fruit.
In a large bowl, add in flour, oats, sugar, cinnamon, pumpkin pie spice, and ground cloves.
Place butter in flour mixture.
With 2 knives, cut the butter into the flour mixture. As you cut in the butter, the flour and butter will form small balls.
Add in walnut pieces to the flour mixture and mix with a spoon.
Place apple and berry (or cherry) mixture in the Corning Ware dish and drizzle honey over the top of the fruit.
Sprinkle the top of the fruit (covering the top) with the flour and spice mixture.
Spray coconut oil (or place little bits of butter) over the top.
Bake for approximately 40-45 minutes until topping is golden and apples and cranberries (or cherries) are bubbling.
Serve warm with vanilla bean ice cream or whipped cream topping.
**If you can't find cranberries, you can substitute 2 c. fresh or dark cherries (in a jar, draining liquid) or blueberries.
Recipe by at https://maryannridinispencer.com/cranberry-apple-crisp/