Banana Pineapple Bread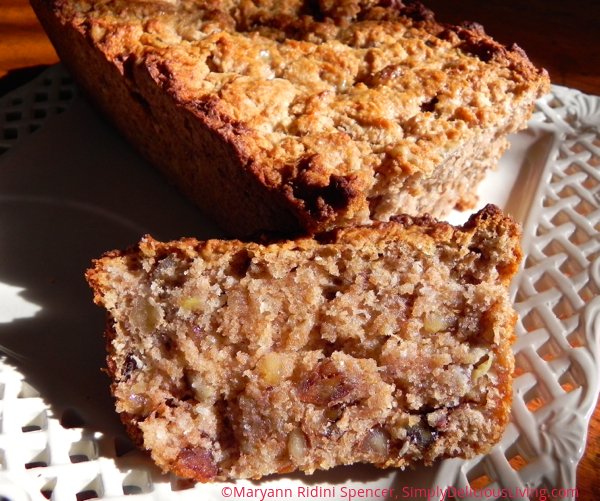 Author:
Maryann Ridini Spencer
1½ c. organic whole wheat flour (or a gluten free flour*)
¼ tsp. salt
2 T. baking powder
2 ripe bananas, peeled
1 c. fresh pineapple chunks
1 c. candied pecan or raw walnut pieces
3 T. coconut oil
¼ c. honey
½ c. shredded coconut
2 tsp. lemon extract
grated rind of one small lemon
Preheat oven to 350 degrees.
Spread a generous amount of coconut oil over a bread loaf pan 4½" x 8½". Set aside.
Sift flour, salt and baking powder into a large bowl.
Add in nuts, with 1-2 strokes, cover nuts with flour.
In a food processor, blend banana and pineapple. Set aside 1¼ c. of the mixture for the bread. Remove any extra mixture from the food processor.
Pour the 1¼ c. of blended banana and pineapple back into the processor and add in oil, honey, lemon rind, and lemon extract. Blend.
With a spoon or spatula, fold blended mixture into the dry flour mixture using a minimal amount of strokes (30-35 tops).
Pour batter into the bread pan (the batter will be stiff).
Bake bread for approximately 45 minutes. If at 40 minutes you see the top of the bread becoming dark, put a piece of tin foil just over the top of the pan for the remaining 5 minutes cook time.
Insert a knife or toothpick to make sure the bread is done.
*For a great gluten free flour, try the All-Purpose Baking Mix from http://ThePurePantry.com
Recipe by at https://maryannridinispencer.com/banana-pineapple-bread/