Pan Seared Sea Scallops with Garlic Aioli Orzo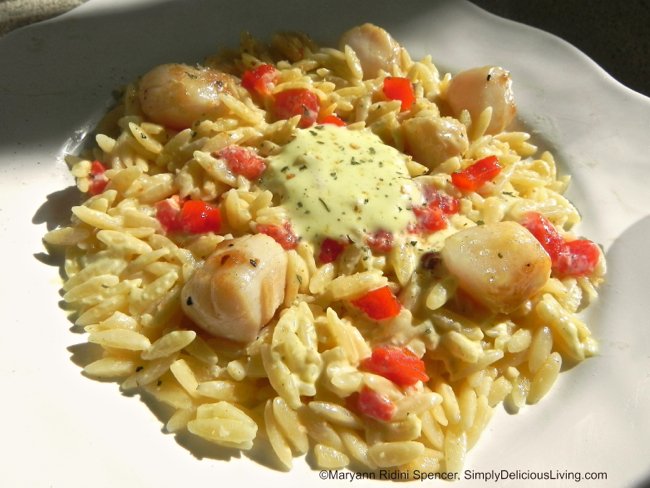 Author:
Maryann Ridini Spencer
PAN SEARED SEA SCALLOPS INGREDIENTS:
1 ¼ lbs. sea scallops
2 tsp. butter
2 tsp. extra virgin olive oil
2 T. freshly squeezed lemon or lime juice
1 tsp. lemon rind
garlic salt and pepper
GARLIC AIOLI ORZO INGREDIENTS:
6 garlic cloves, diced
1 large egg
1 T. freshly squeezed lemon juice
1 T. freshly squeezed lime juice
¼ tsp. salt
dash of black pepper
½ c. extra virgin olive oil
Orzo (to serve four) prepared to package instructions
⅓ c. fire roasted red peppers, diced (or diced sundried tomatoes with olive oil drained)
PAN SEARED SEA SCALLOP INSTRUCTIONS:
In a large bowl, add in scallops, garlic salt and pepper and toss.
In a skillet on the stovetop over high heat, add butter and oil.
When skillet is a little smoky, add in scallops.
Add in lemon or lime juice and lemon rind over tops of scallops.
Keep scallops from touching one another.
Cook for approximately 1-2 minutes until they have a slightly golden hue.
Serve immediately over the Garlic Aioli Orzo.
GARLIC AIOLI INSTRUCTIONS:
In a food possessor, add in garlic, egg, juices, salt and pepper.
Add in about a ⅛ of the oil in a slow stream. Blend. Continue 3 more times until all the oil is used. The mixture will be thick.
RECIPE PROCEDURE:
Make Garlic Aioli first, set aside.
Cook orzo for four to package instructions.
Drain orzo and place back into the pot; add in fire-roasted red peppers and desired amount of Aioli and stir.
Set aside.
In a skillet on the stove to, prepare the sea scallops.
In a large serving bowl, add in orzo.
Add scallops to the top of the orzo mixture and serve immediately.
Recipe by at https://maryannridinispencer.com/pan-seared-sea-scallops-with-garlic-aioli-orzo/