Green Stew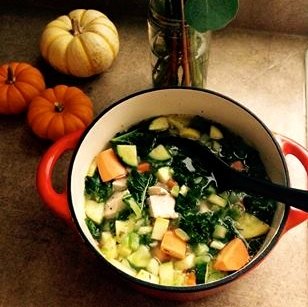 Author:
Maryann Ridini Spencer
8 c. chicken or vegetable broth (homemade stock can be made in the slow cooker with the turkey carcass)
2 carrots, diced
2 celery stalks, diced
1 onion, diced
3 garlic cloves, diced
1½ c. sweet potatoes, diced
1½ c. cubed squash
1½c. chopped kale
2 bay leafs
Italian spice seasoning blend
Himalayan sea salt
Extra virgin olive oil
Red chili pepper flakes (optional)
3 c. Leftover turkey or ham diced or shredded (optional)
1½ c. Leftover prepared rice or pasta noodles (optional)
Drizzle extra virgin olive oil in a skillet over low heat on the stovetop and add in onions and garlic, celery, and carrots and sauté until slightly golden.
Place the broth, meat, other vegetables, and celery and onion mix, 2 bay leafs, Italian seasonings, and a few dashes of salt and pepper in a large pot*. Bring to a boil and simmer about 1.5 hours or so.
If adding prepared rice, noodles, and/or leafy vegetables, add these for the last 15 minutes of cooking.
Taste the soup and see if it might need more seasoning. For a little "kick" add in a dash of red chili pepper flakes to taste.
*To cook this stew in the slow cooker, combine ingredients in step 2 and cook on HIGH for three hours. Proceed with the remaining steps.
Recipe by at https://maryannridinispencer.com/curb-holiday-food-waste-with-green-stew/