Winner of the 2018 American Fiction Awards "Visionary Award"
Winner of the 2017 Best Book Awards "Fiction: Romance"
PLEASE NOTE SOME OF THIS INFORMATION INTENDED FOR THE NEWS MEDIA MAY INCLUDE  BOOK THEME "SPOILER ALERTS"
Pack your bags for a mystical "Aloha" journey to Hawaii's Garden Isle of Kauai…
"Lady in the Window" an Award-Winning NOVEL by Maryann Ridini Spencer (SelectBooks, 2017, Santa Rosa Press, 2019)

Hardcover ISBN: 978-0-9890405-4-9
Paperback ISBN: 978-0-9890405-3-2
eBook ISBN: 978-0-9890405-5-6
"Aloha!  I invite you to read my novel,  "Lady in the Window," where you'll find inspiration, hope, and healing through a young woman's journey — experiencing loss, heartbreak, and betrayal — to the enchantment of self-discovery and the fulfillment of a loving relationship."
-Maryann Ridini Spencer
Lady in the Window storyline:
Kate Grace, who seemingly has it all, faces the trials and tribulations we all face at one time or another in our lives — the death of a loved one, the breakup of a romantic relationship, and the desire to find one's authentic place in the world. After a series of concurrent events turn her life upside down, Kate's new friend, top TV talk show host, producer, and philanthropist, Olivia Larkin, a 42-year-old black woman who has successfully navigated the glass ceiling creating a dynamic life, comes to Kate's rescue; offering Kate respite as her guest in a seaside garden cottage rental in the ancient, magical paradise that is Hanalei, Kauai. As Kate welcomes the "aloha spirit" into her healing process, the angelic and otherworldly occurrences that being to transpire during her respite are too poignant for Kate to ignore. Lady in the Window leads Kate towards her path of destiny: discovering true love, purpose, and the infinite bond between mother and daughter.
For Media Inquiries, Interviews, and Speaking Engagements for Maryann Ridini Spencer,  Contact: Ridini Entertainment Corporation (818) 884-0104 OR email recprinfo@gmail.com and put a brief description of your request in the email subject line.
Journalists requiring a copy of "Lady in the Window" for review purposes, email Ridini Entertainment at recprinfo@gmail.com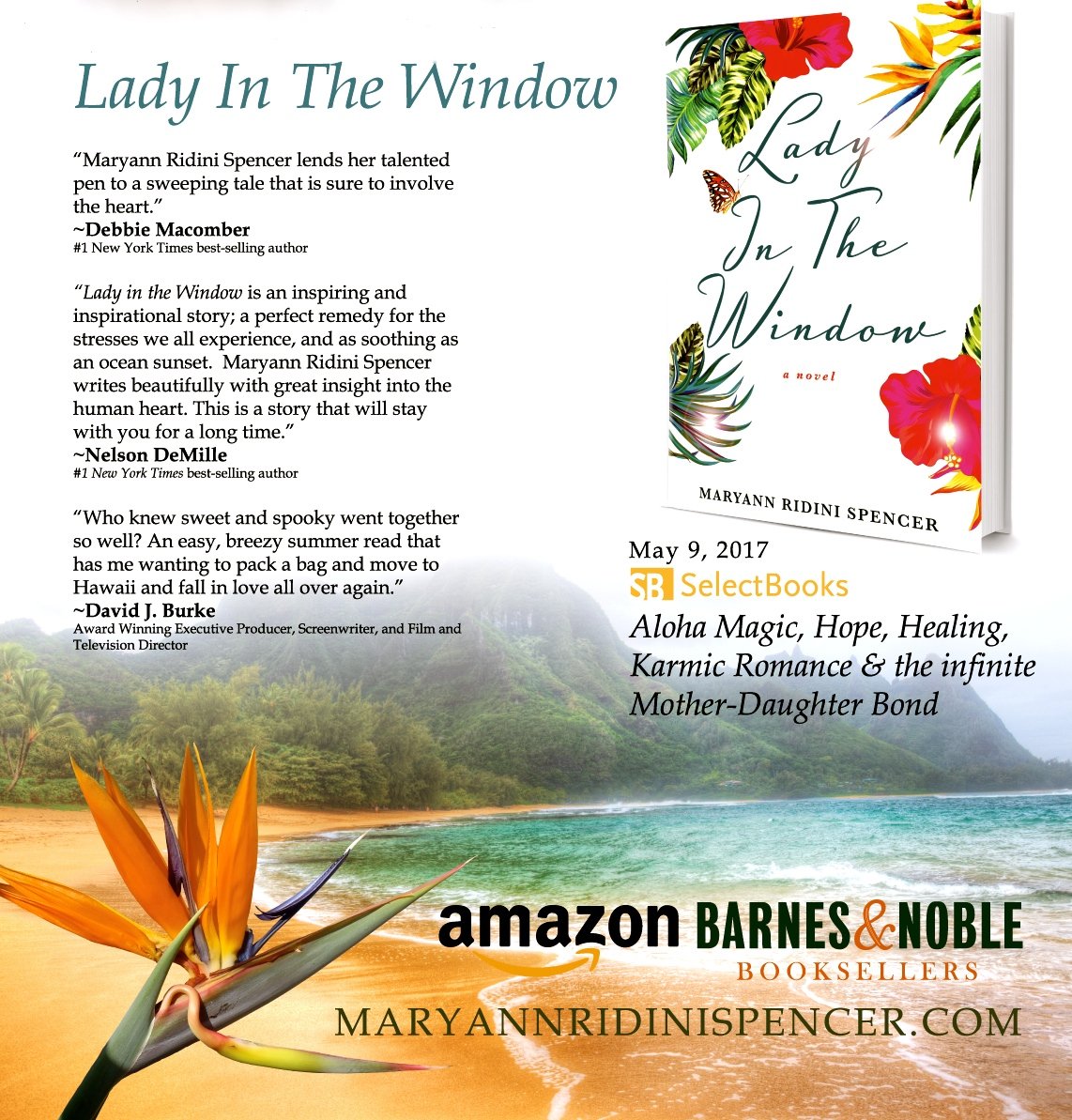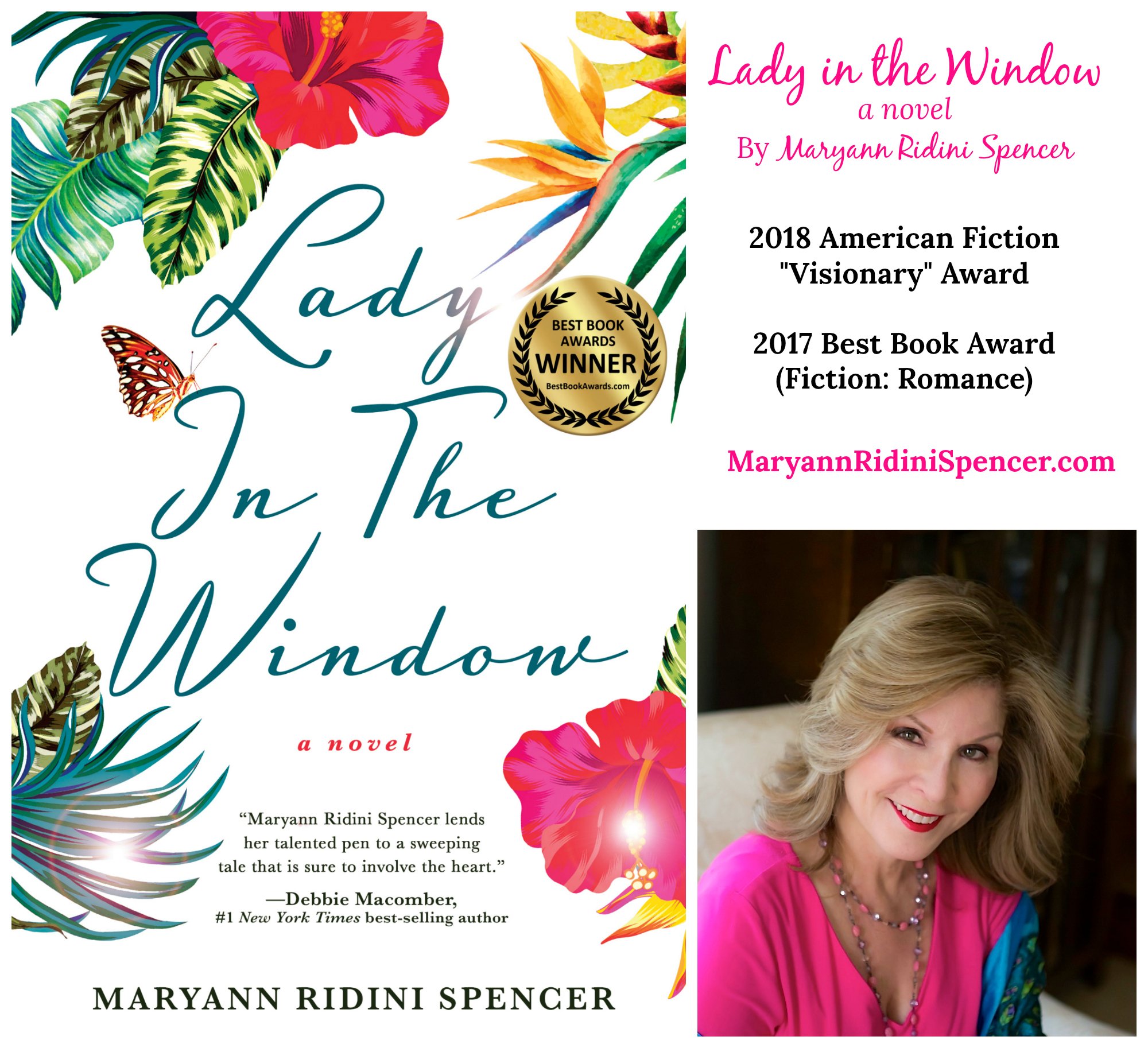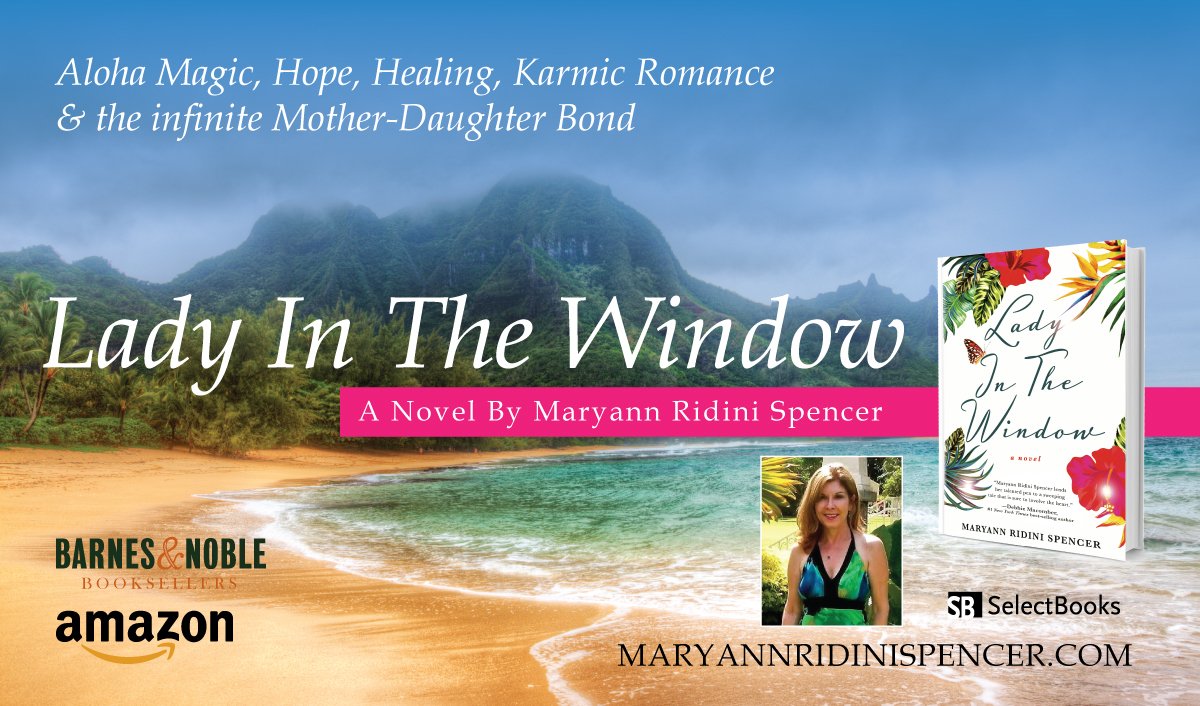 SHARE THE LINK TO ORDER "Lady in the Window"
"LADY IN THE WINDOW" by Maryann Ridini Spencer (SelectBooks, ISBN: 978-1-59079-407-4)
Press Kit Materials, Jpegs & Posters
View Documents in Full Screen, Scroll, Enlarge, and Download
Journalists, please note: For a full book synopsis with spoilers (2-pages) please contact Ridini Entertainment, (818) 884-0104
Book Cover (Drag to your Desktop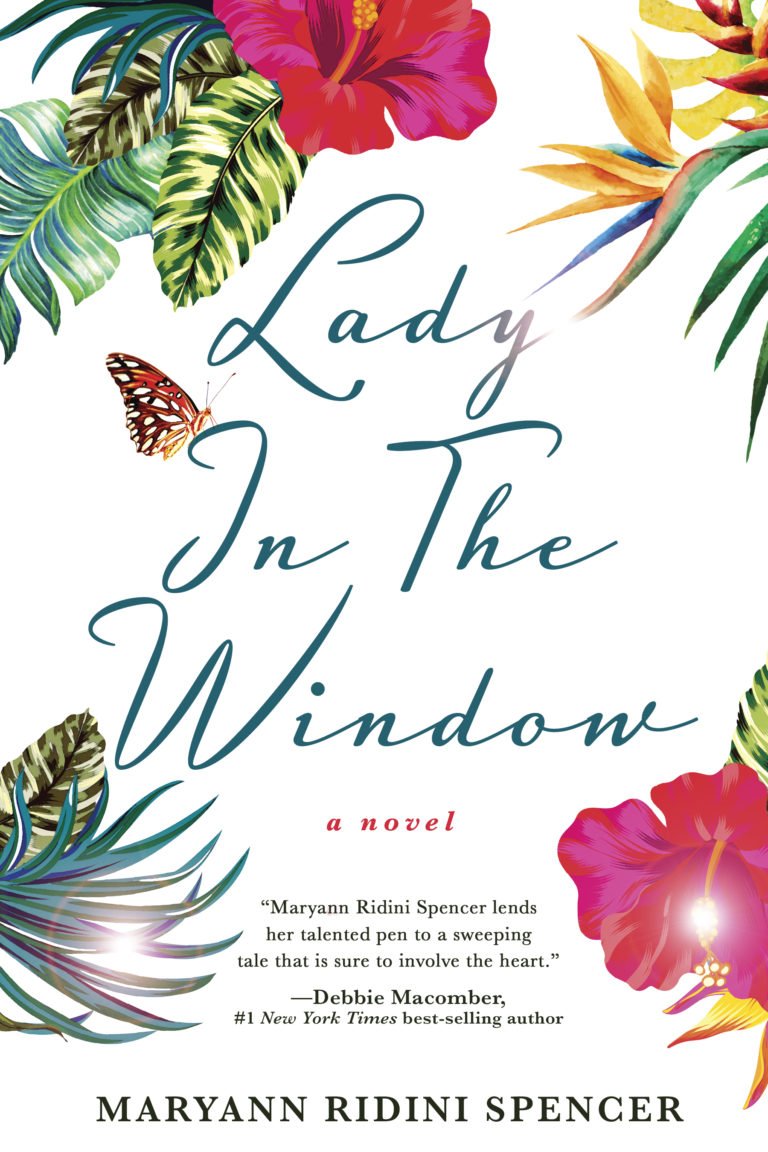 Photo of Maryann Ridini Spencer Photo Credit: Photo by Marie Gregorio-Oviedo (Drag to your Desktop)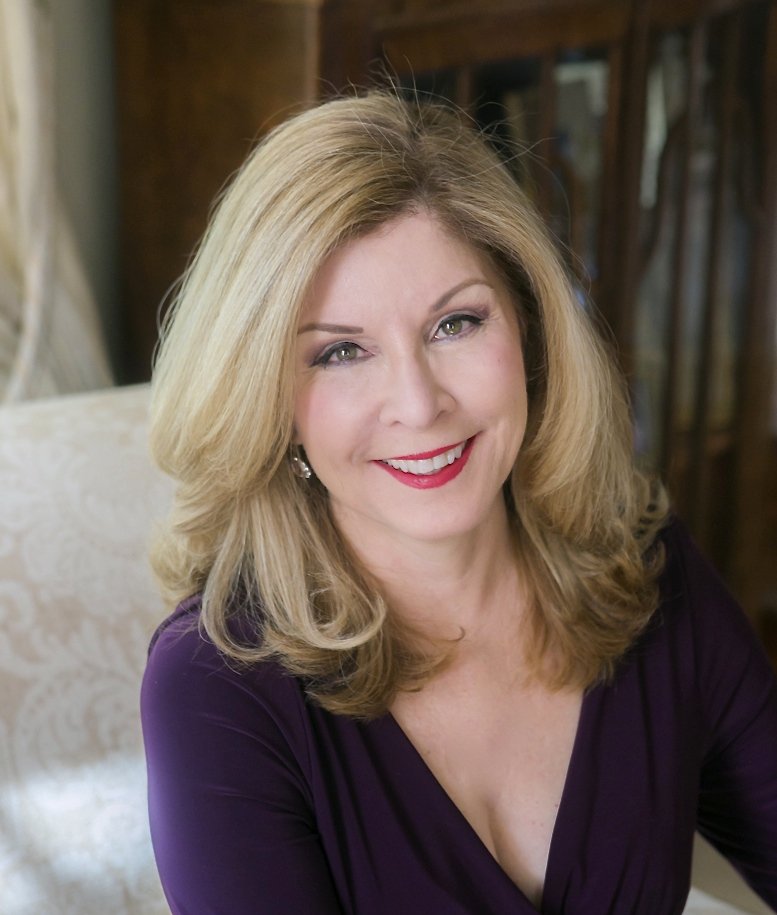 Scenes that Inspired "Lady in the Window" Photos by Maryann Ridini Spencer
Author Signing at Barnes & Noble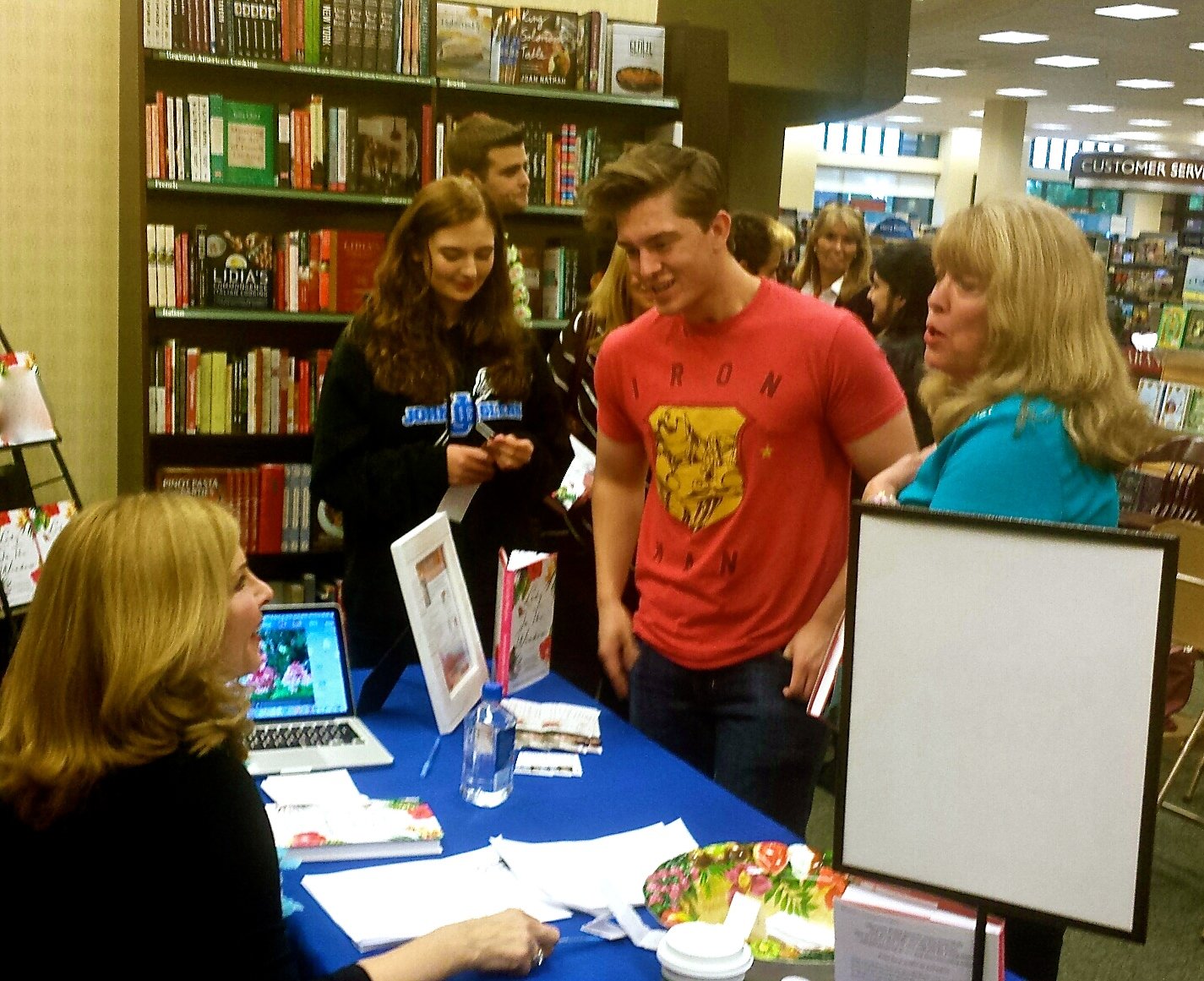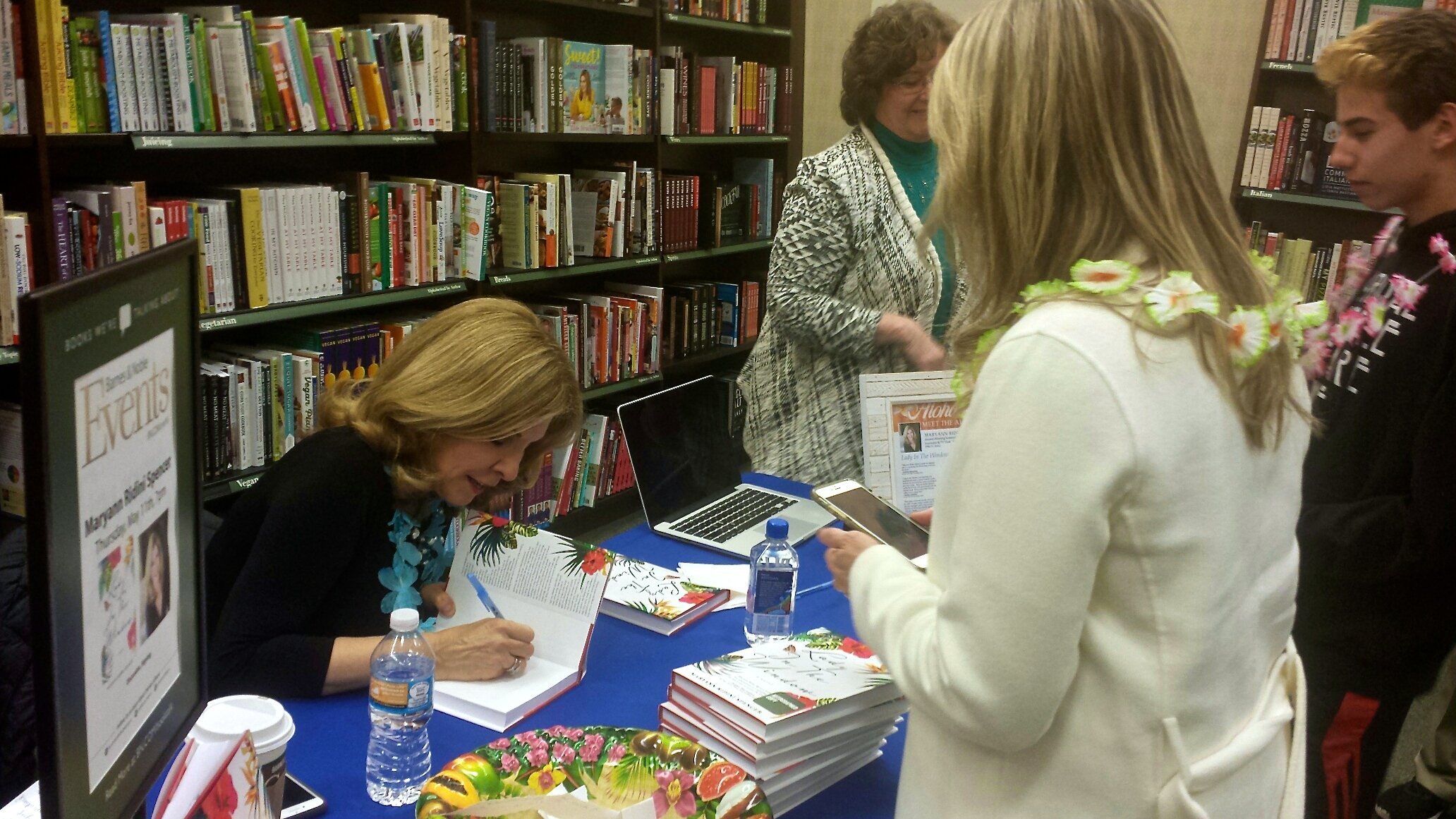 Author Discussion & Reading
UPCOMING EVENTS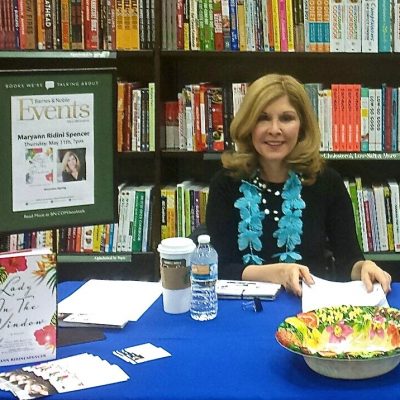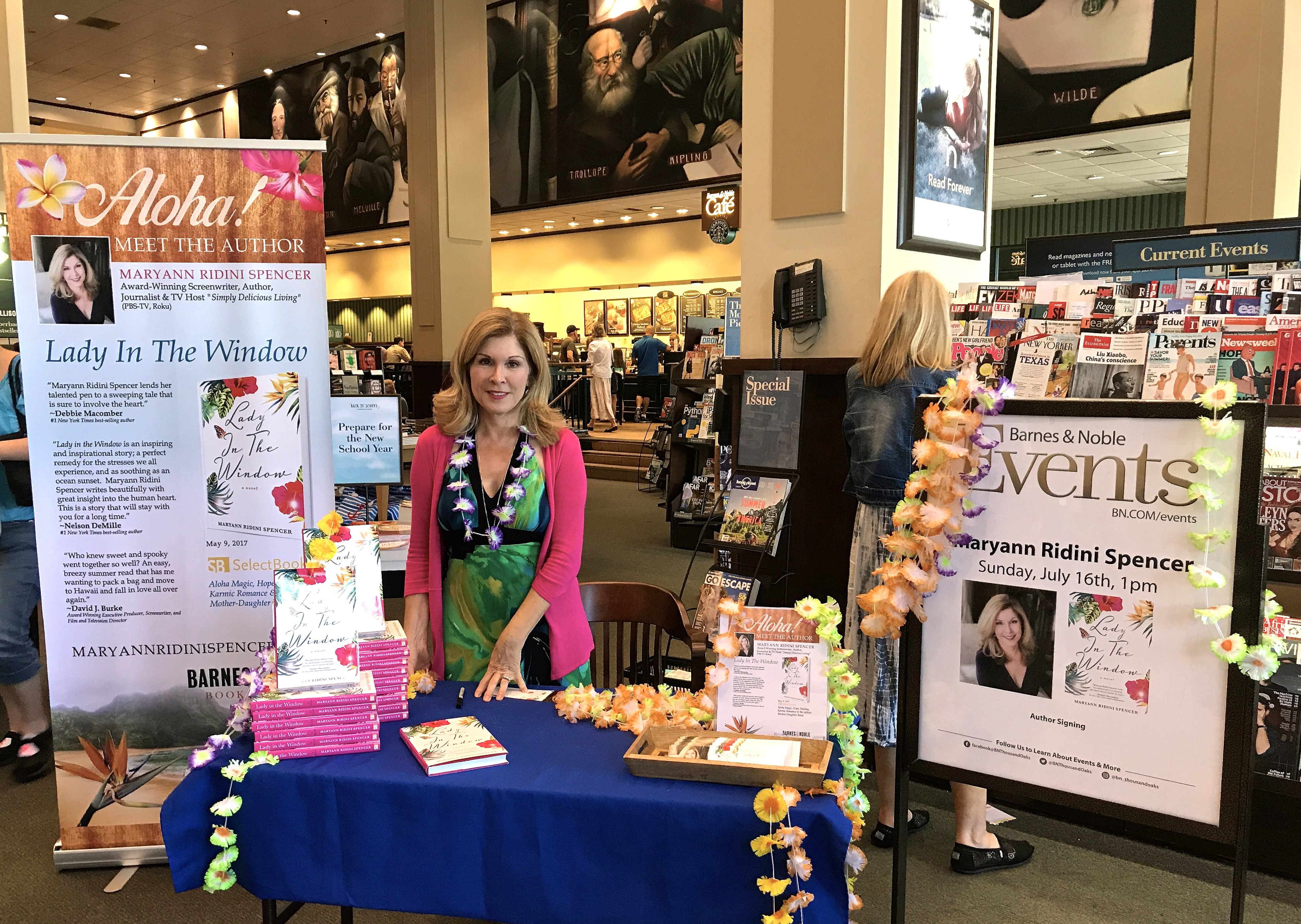 Facebook LIVE Events in Palm Springs, New York, Ventura, Los Angeles, Maui, Boston, & More!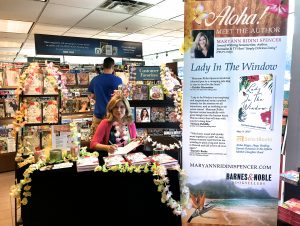 Google+