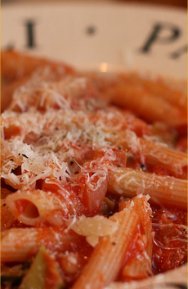 Penne a la Vodka
One of my favorite comfort foods is pasta (with or without meat) — Pasta plain with butter and shaved romano. Pasta with a red, creamy, cheesy sauce. Pasta with fresh basil, tomatoes and a dab of olive oil…and the list goes on and on.
I love a store that's near our house – Trader Joe's. It has wonderful gourmet foods, prepared items and little treasures for reasonable prices.
After a busy day at work, I enjoy coming home preparing a delicious meal for the family without having to slave over a stove for hours.
Here's a meal that's easy to prepare that the entire family is sure to enjoy!
Penne a la Vodka
Author:
Maryann Ridini Spencer
Ingredients
Ingredients/Shopping List from Trader Joe's:
If you do not live near a Trader Joe's visit your favorite grocery!
Penne Pasta to serve 4
Trader Joe's frozen meatballs (Serving size 4-8 meatballs, defrosted. If you do not live near a Trader Joe's try my Emma's meatball recipe.
3 chicken pesto sausages, sliced (or another of your choice)
1 yellow onion, chopped
¼ c. fresh garlic, diced
¼ c. capers (in vinegar)
1-16 oz. jar Trader Joe's Organic Vodka Sauce* (or see below)
1-2 T. olive oil
¼ c. chardonnay
Pasta Sauce Alla Vodka
If you don't have a Trader Joe's near you, follow this recipe for the Pasta Sauce:
1-16 oz. jar of your favorite tomato-based Pasta sauce
½ block of creamy goat cheese
¼ cup of your favorite Vodka
garlic salt and pepper to taste
Instructions
In a pot on the stove top, boil water for penne. Once water comes to a boil, add in desired amount of penne (1 c. uncooked penne per person) and simmer until done to your liking.
Sauté chopped onions and garlic in olive oil on the stove top (medium heat) until slightly brown.
Add in sliced sausages and defrosted meatballs.
Add in ¼ cup of wine.
Let sausage and meatball mixture cook until brown, turning occasionally.
In another pot on the stove, pour the Vodka sauce into the pan, adding in several tablespoons of capers. Let the mixture come to a boil, then simmer over low heat.
When the onion, garlic, meatball and sausage mixture is done, add to the Vodka sauce, and continue to simmer until the penne is cooked.
To make your own Pasta Sauce, on a pot over medium heat on the stovetop, heat a jar of your favorite pasta sauce, add in goat cheese and vodka. Stir. Add in garlic salt and pepper to taste.
Serve immediately over penne!
Make every meal and experience!
©2006 – Maryann Ridini Spencer
Google+