Curry Scramble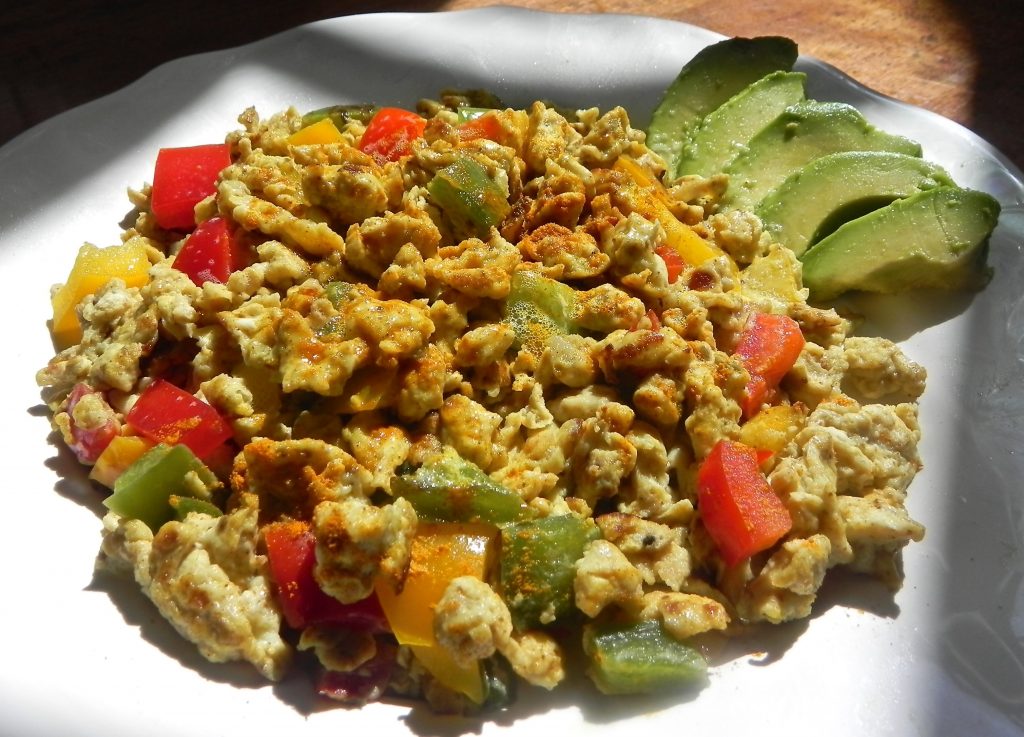 At our house we like to "mix up" our eggs…here's a simple, tasty recipe to add a little spice to your morning — my "Curry Scramble." You can also find this recipe and other delights by visiting "The Plumeria Cafe" tab on my blog. May 9, 2017, my first novel,
"Lady in the Window" (SelectBooks), will be published and available in book stores (and online) and this "Curry Scramble" recipe is part of the delicious fare found at The Plumeria Cafe! Find out more about "Lady in the Window" on my website, MaryannRidiniSpencer.com
Curry Scramble
Author:
Maryann Ridini Spencer
Ingredients
4 organic free-range chicken eggs
¼ c. almond or coconut milk
½ tsp. curry powder from Spice-Topia (http://spice-topia.com/product/curry-powder)
Himalayan sea salt, dash or two
coriander, few dashes
¼ tsp. turmeric
red chili pepper flakes, dash or two
smoked paprika, few dashes
¼ c. red onions, diced
2 garlic cloves diced
½ c. red, green and yellow bell peppers, diced
1 avocado, peeled and sliced
2 Roma tomatoes, sliced or diced
extra virgin olive oil
Instructions
•In a large bowl add in eggs, milk, curry powder, sea salt, coriander, turmeric, red chili pepper flakes.
Drizzle extra virgin olive oil in a skillet on the stovetop over low heat.
Add in onion, garlic, peppers to the skillet and sauté until soft (onions and garlic will be slightly golden).
Add in the egg mixture to the skillet.
Turn the egg mixture about with a spatula until the eggs are done.
Plate scramble with smoked paprika, few dashes (on top of eggs) and avocado and Roma tomato.
"Curry Scramble" Recipe ©2016, Maryann Ridini Spencer/
SimplyDeliciousLiving.com
/
RidiniEntertainment
Google+