Looking for a simple, healthy breakfast recipe to spice up your morning during the COVID-19 pandemic? For a quick pick-me-up during social distancing try my "Simple Spicy Scramble." This recipe is made with fresh or frozen chopped veggies, eggs, & spices. Try it by itself or wrap it up in a flour tortilla. Enjoy and keep safe!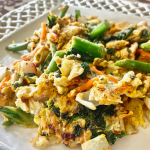 Ingredients
Eggs (2 per person)
Coconut Milk (a T. or two for each egg)
garlic salt to taste
chipotle spice to taste
red chili pepper flakes to taste
Parmesan/Romano cheese blend (shaved)
extra virgin olive oil (for the skillet)
Instructions
Drizzle a little olive oil in a skillet on the stovetop over medium heat.
Add in chopped fresh or frozen veggies  (kale, spinach, carrots, radishes, cabbage — whatever your heart desires) and saute in the skillet.
Beat eggs with milk and spices and pour into the skillet.
Add in a few T. of your favorite shaved Parmesan/Romano cheese blend.
Let eggs cook, then move them around with a spatula or wooden spoon.
Serve immediately.
Notes
This recipe is great by itself with toast, or you can wrap the egg mix up in a flour tortilla.
Google+