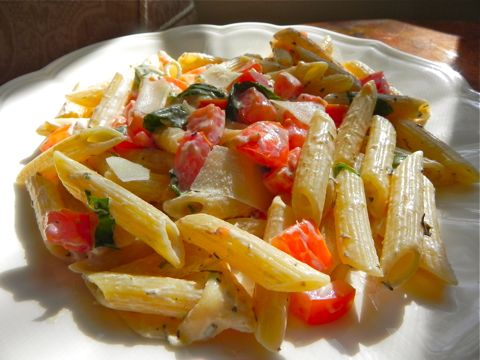 Tomato, Basil & Cheese Pasta (or "Valentine's Day Pasta")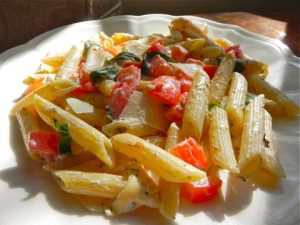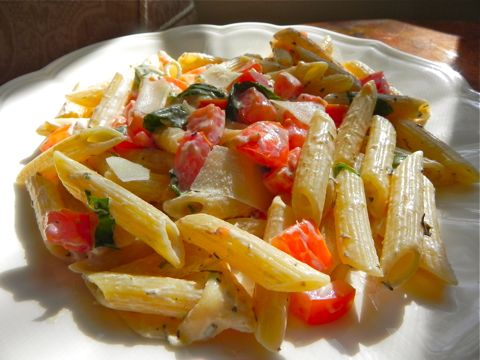 On Simply Delicious Living with Maryann, host Maryann Ridini-Spencer cooks up a delectable pasta dish setting the stage for the perfect amorè –filled Valentine's Day!  Please note since I made this VIDEO, I've UPDATED this RECIPE (See below for Print Out).  I like this version of the recipe even better!
Tomato & Basil Pasta (also known as "Valentine's Day Pasta")
Author:
Maryann Ridini Spencer
Ingredients
4 c. of Fusilli Pasta
4 Roma tomatoes, diced
3-4 garlic cloves, diced Garlic
1 c. whole basil leaves, chopped
freshly squeezed juice of one small lemon
1 c. Parmesan/Romano cheese blend
garlic powder to taste
garlic salt and pepper to taste
extra virgin olive oil
Instructions
Boil 4 c. pasta in a pot on the stovetop according to package directions.
In a skillet on the stovetop over medium heat, drizzle in olive oil to coat the bottom of the pan.
Add diced tomatoes and garlic.
Cook until tomatoes are tender, but not mushy, then remove from heat.
Drain cooked pasta and return it to the pot.
To the pasta, add in cooked tomatoes and garlic, basil leaves, ¼ c. Parmesan/Romano cheese blend, lemon juice and garlic salt and pepper to taste. Mix gently.
Serve dish immediately with the extra Parmesan/Romano cheese.
Notes
This dish goes great with my
Simple Side Salad
. It can be served as a meal and/or as a side dish.
©2010 — Maryann Ridini Spencer
Google+