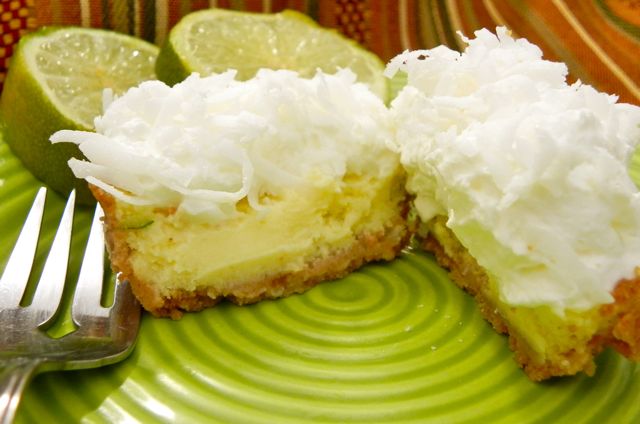 Key Lime Coconut Goat Cheesecake
Key Lime Coconut Goat Cheesecake
Author:
Maryann Ridini Spencer
Ingredients
4 ounces of Philadelphia Cream Cheese at room temperature
5 ounces of Woolwich Chevrai Goat Cheese
⅔ c. sugar
2 eggs
⅓ c. Key Lime juice (or lime juice)
1½ tsp. of lime rind
1 c. shredded sweet coconut
1- Pre-made large (or a series of individual) Graham Cracker pie crusts (Arrowhead Mills, Keebler or other)
Instructions
Preheat oven to 350 degrees F.
In a bowl, place cream and goat cheese and beat with an electric mixer until smooth.
Add in Key Lime rind, key lime juice and eggs.
Add in the sugar in thirds.
Beat after each addition of sugar until mixture is smooth.
Pour mixture almost to the top into the prepared graham cracker pie crust (s).
Bake until edges of cheesecake look set (the center will be soft and slightly jiggly). For the individual pie crusts, bake 15 minutes approximately. If you use one large pie crust, additional baking time may be required.
Cool cheesecake completely, then cover and refrigerate for several hours.
Serve with whip cream and top with shredded sweet coconut.
Enjoy!
©2012 – Maryann Ridini Spencer, SimplyDeliciousLiving.com
Google+