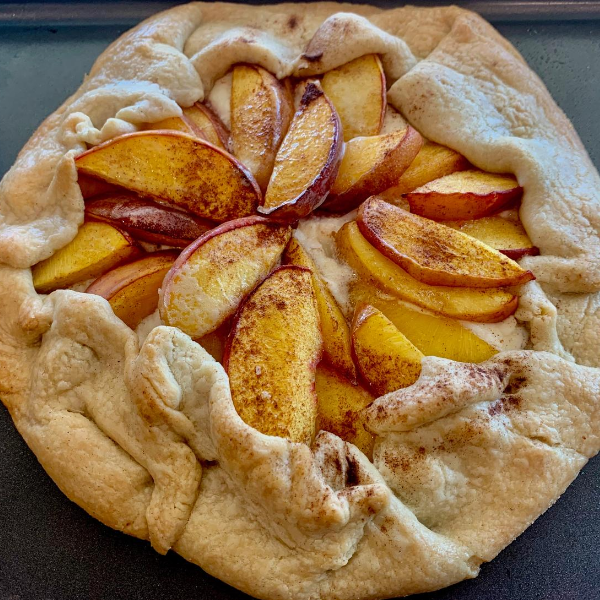 Peach Galette
This Peach Galette recipe is so yummy! It 's made with simple, clean ingredients and no added, refined sugar. You'll find it makes a great ending to any meal. It's also perfect for a snack with coffee or tea.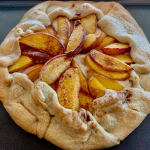 Ingredients
pre-packaged organic whole wheat pastry shell

peaches, sliced

whole milk Ricotta cheese

lemon extract

cinnamon

freshly squeezed lemon juice

extra virgin coconut oil
Instructions
Pre-heat oven to 350 degrees F.
Spread extra virgin coconut oil over a cookie sheet.
Unroll pre-packaged pastry crust and remove the top layer of the film.
With a rolling pin, iron out any creases in the dough.
Roll dough onto greased cookie sheet.
In a bowl, add in Ricotta cheese and lemon extract and mix.
Put a generous helping of cheese in the center of the galette dough.
Place in sliced peaches in another bowl and add in freshly squeezed lemon juice and cinnamon over top and mix.
Layer peaches side by side, forming a pinwheel and then more layers on top of one another.
Roll dough (to overlap) over the peach and cheese mixture (peaches will show in the center).
Sprinkle more cinnamon on top.
Cook for 30 or so minutes until slightly golden.
Serve hot or cold by itself or with coconut ice cream or other topping of your choice.
Google+