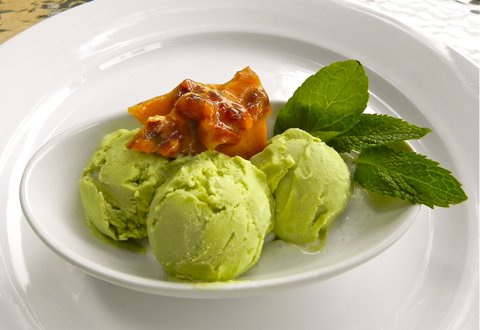 Avocado Ginger Ice Cream
I recently interviewed Main Course California Corporate Executive Chef Rachel Main in an article for Totally Local VC. Rachel shared an amazing recipe for "ice cream" made with all natural ingredients.  To read the full article, CLICK HERE.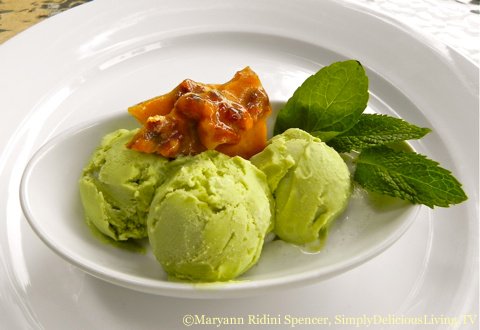 Avocado Ginger Ice Cream
Ingredients
4 medium size Fuerte or Surprise Avocados
2 tsp. Wakaya Organic Ground Ginger
Seeds from ½ vanilla bean
1 – 1 ¼ c. organic coconut milk
1 tsp xanthan gum
¼ c. lime juice
Up to ¼ c. lemon juice
⅔ c. agave nectar
Pinch of salt
Instructions
Place avocado, ginger, vanilla, 1-cup coconut milk, xanthan gum, lime juice, agave nectar and salt into high-speed blender such as a Vita-mix.
Blend on high speed until well incorporated (about 1 minute), scraping down the sides of the blender as needed.
You may need to add the extra ¼ cup coconut milk depending on the liquidity of the avocados.
Taste, and adjust tartness as needed by adding a little lemon juice.
Churn and freeze the ice cream base in an electric ice-cream maker, following manufacturer's instructions.
Let the ice cream set at least 4 hours in the freezer.
Notes
Recipe from Rachel Main, Main Course California / 1363 Donlon St #11, Ventura CA 93003 / (805) 658-8900 / www.maincourseca.com /
Santa Barbara Walnut Brittle
Ingredients
¼ c. Rancho La Vina Walnuts, halved and lightly toasted
1 ¼ c. sugar
2 tsp. butter
Pinch of salt
2 tsp. Wakaya Organic Ginger
Seeds from ½ vanilla bean
1 T. baking soda
Instructions
In a small bowl, mix the baking soda, vanilla bean, ginger, and salt.
Have the butter and cashews at the ready, as once the sugar caramelizes, this recipe must be completed quickly.
Lay a non-stick baking mat, such as a Silpat, onto a cookie sheet.
In a heavy bottomed saucepan, heat the sugar over medium flame until the sugar turns to liquid and begins to turn a caramel-brown color, about 10 minutes.
Gently yet quickly stir the sugar with a wooden spoon, ensuring to incorporate the lighter-colored liquid sugar into the darker-colored liquid sugar.
Quickly stir in the butter and walnuts until incorporated.
Working very quickly, vigorously stir in the baking soda/ginger/vanilla/salt mixture. The caramel will bubble and turn a paler brown color. It will also begin to seize. Working very quickly, scrape the caramel out onto the prepared Silpat, and smooth the caramel out into a ¼ inch layer.
Let rest at room temperature at least 1 hour.
Once cooled, store in an airtight container until ready to serve.
Notes
Recipe from Rachel Main, Main Course California / 1363 Donlon St #11, Ventura CA 93003 / (805) 658-8900 / www.maincourseca.com /
***
Main Course California / 1363 Donlon St #11, Ventura CA 93003 / (805) 658-8900 / www.maincourseca.com /
Google+