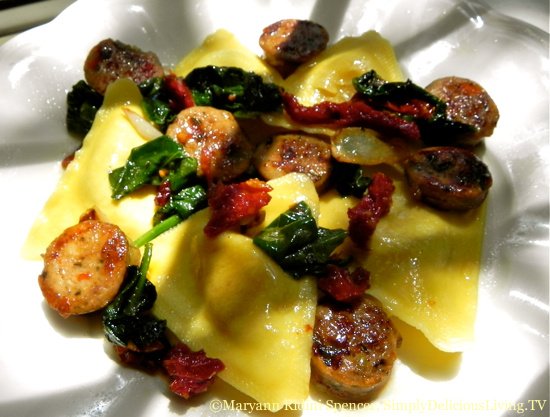 When you've had a busy day at the office or you'd just like to make something simple, delicious and healthy for dinner, this recipe, Butternut Squash Ravioli with Sweet Sausage, Spinach and Sundried Tomatoes delivers on scrumptious taste and cooking ease.  Made with all natural and organic ingredients, you can also rest assured that you're family is getting some healthy nutrition!

Butternut Squash Ravioli with Sweet Sausage, Spinach & Sundried Tomatoes
Author:
Maryann Ridini Spencer
Ingredients
Package of Brat Hans organic Sweet Italian Chicken Sausage
1 T. extra virgin olive oil
Package of organic Butternut Squash Ravioli
2-3 large garlic cloves, diced
½ small white onion, sliced
½ c. walnuts, diced
garlic salt
lemon pepper
oregano (fresh or dried)
4 c. fresh organic spinach leaves
½ c. julienne sliced sundried tomatoes in olive oil
fresh lemon juice
Instructions
Slice sausages into small rounds.
In a skillet on the stovetop over low heat, add in 1 T. extra virgin olive oil.
Place sausage pieces and cook until both sides of the sausage are golden. Once sausages are cooked, remove from pan and set aside on a plate.
Cook ravioli to package instructions (approximately 4-5 minutes).
To the skillet (without washing it first), add in garlic, onions and walnuts. Sauté mixture until slightly golden.
Add in spinach, and a few dashes of garlic salt, lemon pepper and oregano.
Mix and cook mixture for a minute or two until spinach has wilted.
Add in sundried tomatoes in olive oil and sausage pieces and cook for another minute.
Drain ravioli.
Place 4-5 ravioli on a plate. Then top with spinach and sausage mixture. Spritz the dish with a little fresh lemon juice.
Serve immediately!
Google+