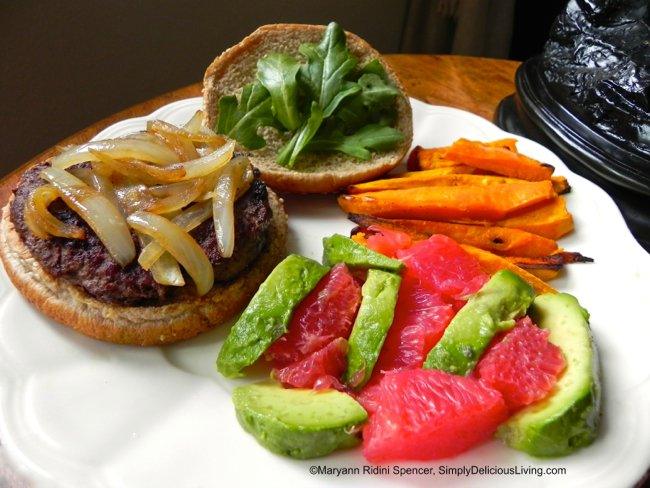 Carol's Burgers with Caramelized Onions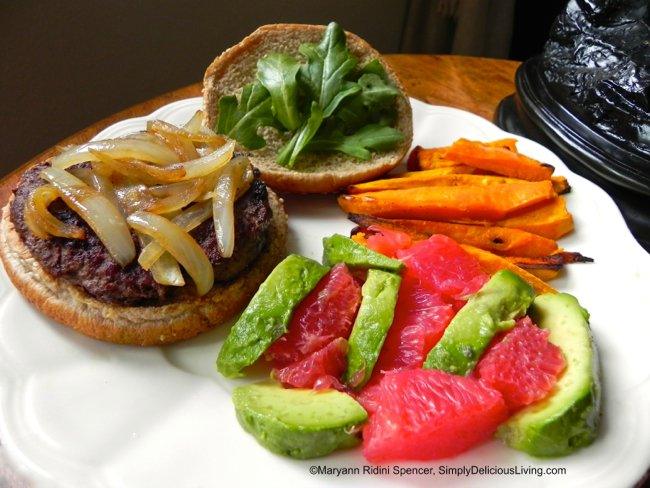 Make this meal in under 30 minutes! My sister-in-law Carol shared this delicious recipe for hamburgers and caramelized onions. She served it with home made sweet potato fries and a simple grapefruit and avocado salad. The meal was so delicious that it's become one of my favorite go-to meals!

Carol's Burgers with Caramelized Onions
Author:
Maryann Ridini Spencer
Ingredients
Burger Ingredients
2 lbs. organic no hormone hamburger meat
3 T. organic ketchup
1 T. Worcestershire sauce
1 onion, sliced
garlic salt & pepper
whole wheat hamburger rolls
Sweet Potato Fries Ingredients
6 or 8 sweet potatoes
garlic salt and pepper
extra virgin olive oil
Grapefruit and Avocado Salad Ingredients
2 ruby red grapefruits, peeled and sectioned
2 avocados, scooped and sliced
Instructions
Burger Preparation
In a bowl, mix burger meat with ketchup, sauce, salt and pepper.
Form meat into 6-8 patties. Set aside.
In a skillet on the stovetop, sauté onions, set aside.
Grill or cook patties on stovetop.
Heat or grill rolls.
Sweet Potato Fries Preparation
Preheat oven to 425 degrees
Rinse and peel sweet potatoes. Cut potatoes lengthwise into ½ thick slices, and then cut each slice into ¼ inch batons.
Spread extra virgin olive oil onto a baking sheet.
In a large bowl, place 1 T. extra virgin olive oil, fries, garlic salt and pepper, gently toss.
Place sweet potato fries on sheet, drizzle a little olive oil over the fries along with some garlic salt and pepper, toss.
Roast fries for approximately 20-25 minutes. About half way through roasting, toss fries with a heatproof spatula.
Grapefruit and Avocado Salad Preparation
Place avocados and grapefruit wedges in a bowl, mix gently.
Notes
This recipe makes approximately 6-8 burger patties.
Google+