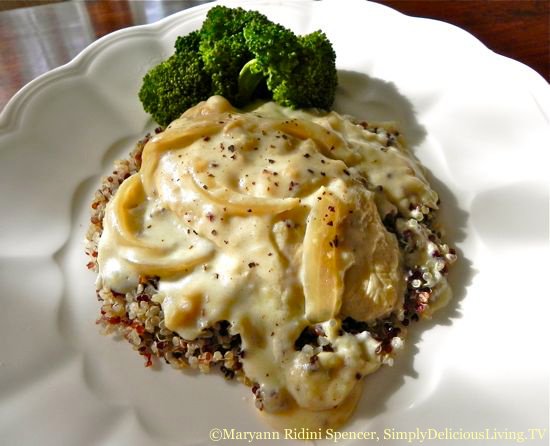 Chicken Quinoa with Dijon Cream Sauce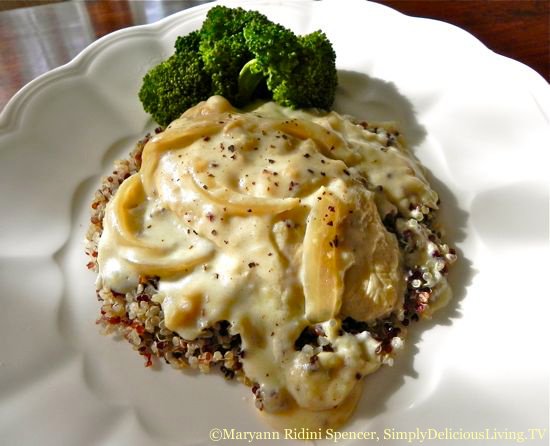 This dish, which is so delicious and satisfying, can be prepared in under 30 minutes. Enjoy it any night of the week. It's also a fantastic and elegant recipe to share if you're having guests. Bon Appétit!
Chicken Quinoa with Dijon Cream Sauce
Author:
Maryann Ridini Spencer
Ingredients
4 -6 skinless, boneless chicken breasts
package of multi-colored quinoa
1 small onion, peeled and sliced thin
½ c. Chardonnay
1 c. heavy cream
2 T. Dijon mustard (Grey Poupon is gluten free)
freshly squeezed lemon juice
garlic salt and pepper to taste
Extra virgin olive oil or oil spray
Instructions
Cook multi-colored quinoa for 4 per package instructions.
Wash chicken breasts. If a chicken breast is thicker in some parts than others, pound it with a meat mallet (between 2 pieces of wax paper) so that the chicken breasts are of even thickness.
In a non-stick skillet on the stovetop over medium heat, add a little olive oil (or a touch of oil spray) to the pan.
Sauté sliced onions until they are slightly golden.
When onions are done, remove from the skillet and place aside on a dish.
Without washing the skillet, add in a little more olive oil (or spray to the pan) and place chicken breasts in the skillet. Cook chicken until slightly golden (approximately 7-12 minutes or so). As the chicken cooks, turn it occasionally so the chicken browns evenly on both sides and be careful not to overcook the chicken.
Turn skillet heat to low.
Add in Chardonnay, heavy cream and stir.
Add in cooked onions, mustard and lemon juice.
Stir mixture.
Add garlic salt and pepper to taste.
Simmer mixture for approximately 5 minutes.
With a fork or server, remove individual pieces of chicken from the cream mixture, placing each piece of chicken over a plate of steaming quinoa.
Pour a bit of the cream mixture over the top of each piece of chicken.
Notes
©2014 Maryann Ridini Spencer/SimplyDeliciousLiving.com
Google+