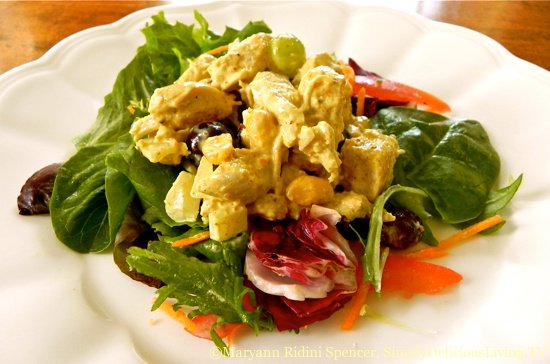 Curry Chicken Salad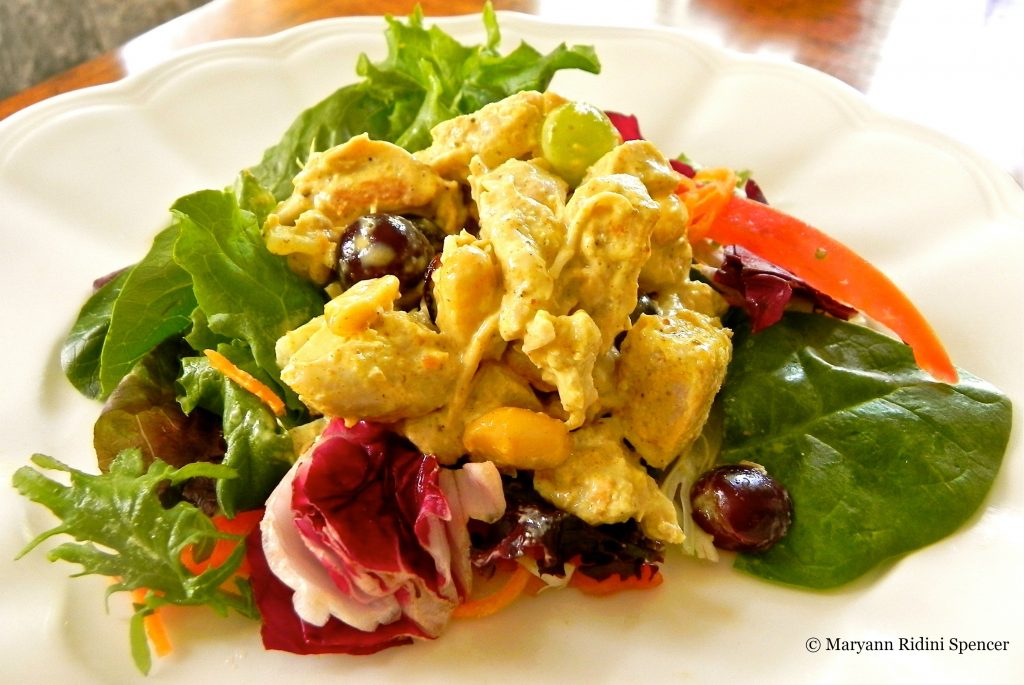 I love hot Chicken Curry for dinner over a bed of jasmine rice. However, one night I was in the mood for a cold salad that had the delicious taste of curry. This recipe is so simple and tasty and you can also serve it in a pita or even in the center of a scooped out melon!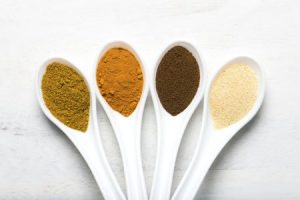 I like to make it with organic curry powder I get from a fantastic shop, SpiceTopia (Spice-Topia.com).
Enjoy!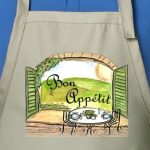 If you like the "Bon Appetit" Apron I'm wearing, you can purchase it at the Simply Delicious Living Store, CLICK HERE.

Curry Chicken Salad
Author:
Maryann Ridini Spencer
Ingredients
3-4 organic, boneless, skinless chicken breasts cut into small cubes
Dressing
¾ c. mayonnaise
freshly squeezed juice from one small lemon (or lime)
1 T. honey
2 tsp. red or yellow curry powder
⅓ c. diced red onion
⅓ c. celery, diced
1 c. peeled, diced Fuji apple (s)**
¾ c. lightly salted peanuts
½ c. dried cranberries
garlic salt & pepper to taste
Instructions
In a skillet on the stovetop over low heat, cook diced chicken until slightly golden. When cooked, remove skillet from stove. Set aside.
In a Cuisinart, add in mayonnaise, juice, honey, and curry powder. Blend. Set aside.
In a large bowl, add in cooled chicken.
Pour mayonnaise and curry mixture over chicken to moisten chicken to desired consistency. Mix.
Add in onions, celery, apples, and garlic salt and pepper to taste. Mix.
Cover bowl and put in the fridge for a few hours to allow flavors to blend.
When you're ready to serve, add in cranberries and peanuts to the curry and mix. If the curry is a little dry, add in a bit more lemon or lime juice (maybe a tad of mayonnaise) and mix.
Serve curry over a bed of leafy greens, a salad made with oil and balsamic vinaigrette dressing, in a pita with fresh arugula, and/or in the center of a scooped out melon half.
Notes
**I love to add fresh diced pineapple to this recipe (and a few green seedless grapes) for diversity and crunch!
©2014 Maryann Ridini Spencer/SimplyDeliciousLiving.com
Google+