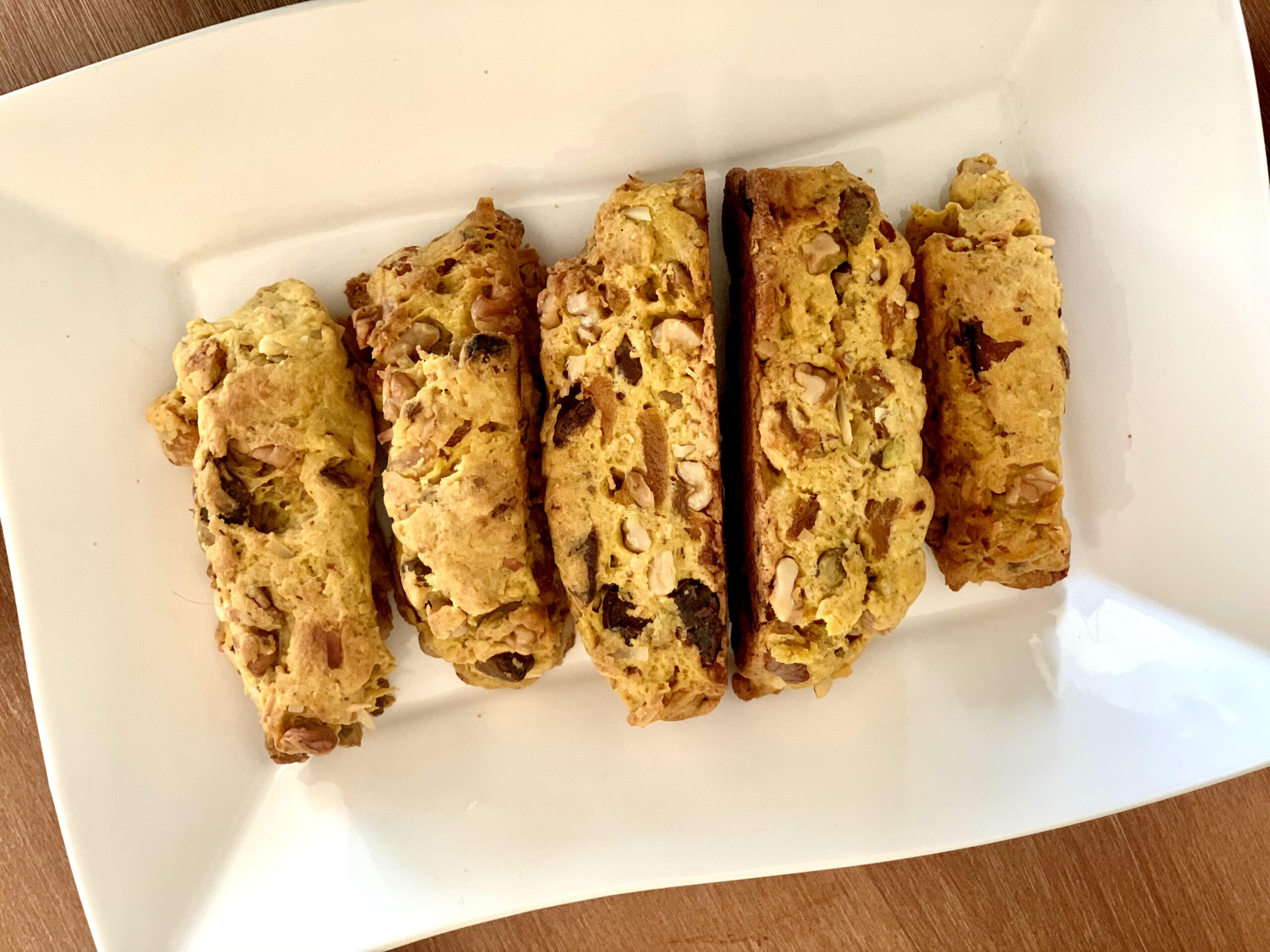 Dried Fruit & Date Biscotti
Enjoy this recipe with morning coffee, afternoon tea, or after dinner as dessert. My "Dried Fruit & Nut Biscotti" is made with all natural ingredients and NO granulated sugar! For "dunkers," it holds its shape when you submerge in coffee, tea, or milk! This recipe also makes a great homemade gift!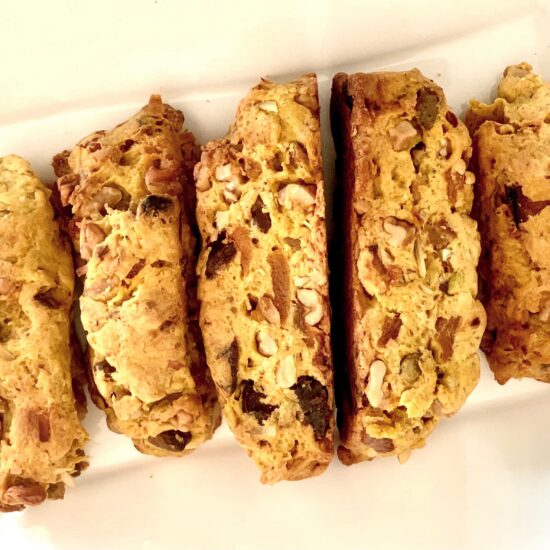 Dried Fruit & Date Biscotti
Ingredients
1 3/4

c.

Flour

1/2

c.

almond meal

1 1/2

tsp.

baking powder

1/2

c.

coconut oil

melted, extra virgin cold pressed

1/2

c.

pumpkin

1

c.

unsweetened apple sauce

3

tsp.

lemon extract

1

c.

dates, chopped

or dried cranberries

1

c.

dried apricots, chopped

1/2

c.

unsalted pistachios

1/4

c.

unsweeteneed coconut flakes

1/4

c.

walnut pieces

coconut oil spray
Instructions
Preheat oven to 350 degrees F.

Spray coconut oil over the cookie sheet and set aside.

In a large bowl, add flour, almond meal, baking powder, pumpkin, applesauce, extract, dried fruits, nuts, coconut flakes, and pour in melted coconut oil. Mix well, forming a dough.

On a large piece of parchment paper, place the dough (in half pieces or one-piece) and form a log with your hands.

With a sharp knife, slice dough log (s) horizontally in slices about an inch in width.

Place each piece of dough side by side on a greased cookie sheet.

Spritz the top of dough with a bit more coconut spray.

Bake in the oven at 350 degrees F for approximately 30 minutes (until slightly golden). Remove cookie sheet from oven, and with a spatula, turn biscotti over. Spritz again with coconut oil spray. Bake another 5-10 minutes.

Remove biscotti tray from the oven and let cool.

Store biscotti in a Zip Lock bag in the freezer.
Notes
For extra sweetness you can add a few packets organic stevia to the Biscotti dough.
Watch Maryann make Dried Fruit & Nut Biscotti

On TV, WATCH Simply Delicious Living on PBS-TV (KVCR-TV) in Southern California, DirecTV, Dish Network Sunday Mornings 10:56 am to 1:00 pm.
On Your Smart TV, Computer, Phone, or other Device, Subscribe to Maryann's YouTube Channel. FREE SUBSCRIBE TO MARYANN'S LIST: https://bit.ly/2RvA3tG
View & Purchase Maryann's novels & cookbooks:
"Lady in the Window" Hardcover, Paperback and eBook BARNES & NOBLE: http://bit.ly/2FlOBWT AMAZON: http://amzn.to/2qD4YVO
"The Paradise Table" Hardcopy, Paperback & eBook AMAZON: https://amzn.to/2nl4XZv BARNES & NOBLE: http://bit.ly/2n0aiFw
"Simply Delicious Living with Maryann® – Entrées" Cookbook Hardcopy & eBook AMAZON: https://amzn.to/2wVSMaW BARNES & NOBLE Hardcover: http://bit.ly/36uJPRU & eBook: http://bit.ly/2PKo0ar
Google+