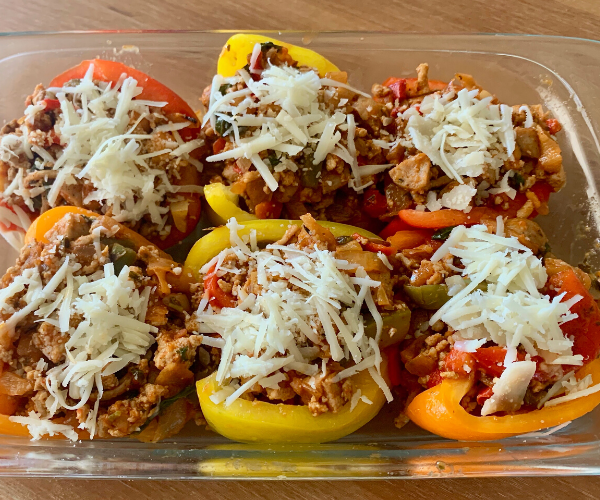 Gram and Gramp's Baked Stuffed Peppers
My Grandma Mary and Grandpa Leo loved onions & peppers — with eggs for breakfast or mixed together with other yummy ingredients and baked in the oven in a pepper shell. This is my take on this beloved family recipe. Enjoy!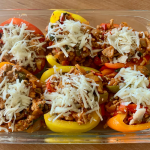 Ingredients
6 large peppers (a combination of red, yellow, green) and 3 peppers  (one of each color) to dice
2-3 garlic cloves, peeled & diced
1/2 c. onion, diced
1/2 c. fresh basil, chopped
3-4 sweet Italian sausages, diced
16 oz. organic ground turkey
1 tsp. garlic salt
1.5 tsp. Italian seasoning
1/4 tsp. red chili pepper flakes
1-1.5 c. of  Dad and Mom's pasta sauce (Click here for recipe: https://maryannridinispencer.com/dads-and-moms-pasta-sauce/) or your favorite Pasta Sauce
1/2 c. water
Instructions
Preheat oven to 350 degrees F
Add olive oil into a skillet on the stovetop over low heat
Add garlic and onions and sautee
Add in diced peppers
Add in fresh basil
Add in sweet Italian sausage
Add in ground turkey
Add in spices — garlic salt, Italian seasoning, pepper flakes (important –  to taste!)
When the meat is cooked, add in pasta sauce and mix. Cook for 1-2 minutes. Remove from heat.
Cut three peppers in half (one yellow, one red, one green) and scoop out the seeds and veins (throw away)
Fill half shells to the top with meat mixture
Top peppers with cheese
Drizzle a bit of olive oil on top
Pour 1/4 to 1/2 c. water on the bottom of the Pyrex dish (this will help the peppers cook and become tender)
Place peppers in Pyrex dish and cover with a companion glass cover or tin foil and bake for 30 minutes
Remove glass top or tin foil and cook peppers another 5-10 minutes
Serve immediately or store in the fridge to enjoy the following day
Notes
You can make 6 stuffed peppers with this recipe. While you can serve the peppers the same day you bake them. I love to make this recipe one day ahead of time to give the dish a chance to marinate in all the yummy flavors!
Google+