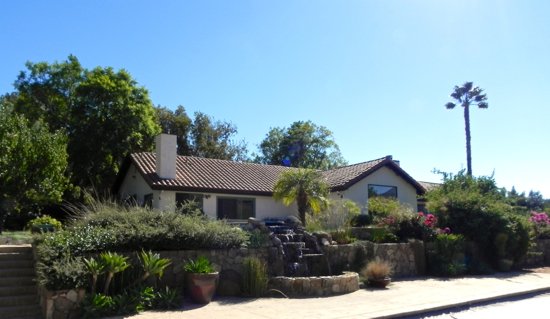 Green Home Renovations
"When doing a home renovation, it's important to think sustainably and be stewards of our environment," said Rhett Jacobi, contractor, designer, and owner of Arbor Construction. "I really enjoy working alongside a homeowner, assessing a job, and determining what materials we can salvage, reuse and/or repurpose."
It's no wonder that in 'thinking green,' and with an eye for the 3 R's (reduce, reuse, recycle), that Rhett's designs are considered simple, intelligent and unique.
"My passion is helping people find the balance between creating a space that fits their needs and budget, while using natural and repurposed materials that have low impact on the environment," said Jacobi.
For a recent home renovation in Ojai, Rhett worked with a homeowner whose intention was to create a more open, warm, natural, and inviting living environment while being as green as possible with their renovation.
"The first thing we did in order to improve the home's flow, especially from the living room to the kitchen, was to remove several walls to create a larger space. Now, a person working in the kitchen can converse and see guests in the living room as opposed to being isolated. The removal of walls also helped to make use of the home's great natural lighting," said Jacobi.
Next steps were to change out the old flooring, paint the indoor space, and create a fireplace hearth that matched the new look. All these jobs were completed by using quality, sustainable materials.
"The homeowner wanted more beige, brown and white tones to reflect the natural and neutral colors found in nature," said Jacobi. "For the flooring, a quality maple wood was chosen from Mirage Floors (http://miragefloors.com), specifically because the company has such high standards of product and keeps sustainable in the way they harvest trees and the types of adhesives and glues they use. We also chose a locally produced beige-toned stone tile that works beautifully alongside the maple."
"For the bedrooms, a natural, wool carpeting was selected specifically because it doesn't off-gas like petroleum based carpeting."
"To make the indoor environment feel even more spacious, only light colored paints were used on the walls," said Jacobi. "We also only used clay based paint, which improves indoor health and air quality. "
"For the fireplace mantle, a former railroad tie was upcycled, serving as a stunning centerpiece for the room."
Energy conservation was also a top priority. The home's dated, energy-intensive halogen track lighting was upgraded with LED lighting to help conserve on energy as well as contribute to a lower energy bill. Smaller windows were also replaced with larger, dual-paned windows for better insulation and to help save energy as well as to increase the home's amount of natural lighting.
"The homeowner has to feel represented in their space, with their home uniquely reflecting what's important to them," said Jacobi. "When you add the green and sustainable element into building renovation, it's a win-win for the homeowner, and the environment."
–Maryann Ridini Spencer for SustainableVentura.TV
Google+