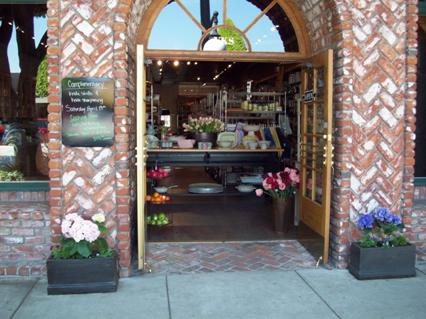 A few weeks ago, my amazing friend author, Barbara Berg (RingShui.com), treated me to a fabulous cooking class and lunch at the Village Kitchen Shoppe in the picturesque and quaint downtown area of Glendora, Ca.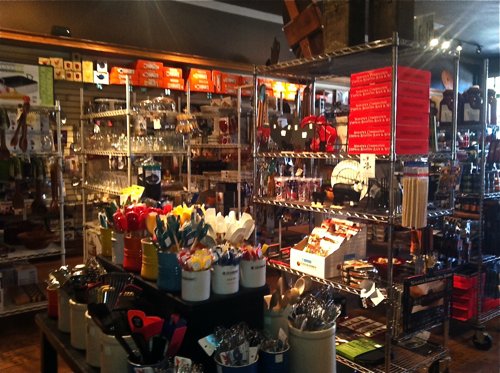 The store is  charming, warm and filled with everything related to kitchen, cooking and JOY OF FOOD!
Co-owner and Chef, Dee Dee Turner, created a simply wonderful dish, Chicken Saltimboca with Sautéed Spinach with almonds and raisins, that she prepared and shared with all the class participants.  It was such great fun chatting with all the ladies and enjoying great conversation and good food!
Chicken Saltimboca
Author:
Maryann Ridini Spencer
Ingredients
½ c. flour
salt and pepper
8 (4-ounce) chicken cutlets, ½" thick, trimmed
1 T. minced fresh sage, plus 8 large leaves (optional)
8 thin slices prosciutto (3 ounces), cut into 5 to 6 inch long pieces to match chicken
½ c. olive oil
1¼ c. dry vermouth or white wine
2 tsp. lemon juice
4 T. unsalted butter, cut into 4 pieces and chilled
1 T. minced fresh parsley
Instructions
Heat oven to 200 Degrees F.
Combinue flour and 1 tsp. pepper in shallow dish.
Pat cutlets dry with paper towels.
Dredge cutlets in flour mixture, shaking off any excess flour.
Lay cutlets flat and sprinkle evenly with minced sage.
Place prosciutto slice on top of each cutlet, pressing lightly to adhere; set aside.
Set wire rack in rimmed baking sheet. Heat 2 T. oil in a 12" skillet over medium-high heat until oil begins to shimmer.
Add sage leaves (if using) and cook leaves until they begin to change color and are fragrant 15-20 seconds.
Using a slotted spoon, transfer sage to paper towel-lined plate and set aside.
Add half of cutlets to pan, prosciutto side down, and cook until light golden brown, 2-3 minutes. Flip and cook on the other side until golden brown, about 2 minutes longer. Transfer to prepared wire rack and keep warm in oven. Repeat procedure with 2 T. oil and remaining cutlets. Transfer to oven to keep warm.
Pour off excess fat from skillet. Stir in vermouth/wine, scraping up any browned bits, and simmer until reduced to about ⅓ c., 5-7 minutes.
Stir in lemon juice and reduce heat to low and whisk in butter, 1 piece at a time.
Off heat, stir in parsley and season with salt and pepper to taste.
Remove chicken from oven and place on a platter. Spoon sauce over cutlets before serving.
Notes
If cutlets aren't available, use 4-8 ounce boneless, skinless chicken breasts. Remove the tenderloin from underside of breasts. Trim any excess fat, gristle, or bones where wing or ribs were attached. Freeze breasts for 15 minutes until firm but not fully frozen. Place chicken breast smooth-side up on the counter. Place one hand on to of breast, and with a sharp chef's knife held parallel to the counter, carefully slice through the middle of breast horizontally to yield two ¼" to ½" thick pieces.
Recipe Courtesy of
Village Kitchen Shoppe
Sautéed Spinach with Almonds and Golden Raisins
Author:
Maryann Ridini Spencer
Ingredients
18 ounces (18 c.) baby spinach
¼ c. water
½ c. golden raisins
2 T. olive oil, plus 2 tsp. more for drizzling
4 cloves garlic, sliced thin
¼ tsp. red pepper flakes
salt
⅓ c. toasted slivered almonds
2 tsp. sherry vinegar
Instructions
Place spinach and water in a large microwave-safe bowl.
Cover bowl with a large dinner plate.
Microwave until spinach is decreased in volume by half, 3-4 minutes.
Using potholders, remove bowl from microwave and keep covered for 1 minute.
Carefully remove plate and transfer spinach to colander set in sink.
Using the back of a rubber spatula, press spinach to release excess liquid.
Transfer spinach to cutter board and roughly chop.
Return spinach to colander and press a second time.
Heat raisins 2 T. olive oil, garlic and pepper flakes in a 10" skillet over medium-high heat. Cook, stirring constantly, until garlic is light golden brown and beginning to sizzle, 3-6 minutes. Add spinach to skillet using tongs to stir and coat with oil. Sprinkle with ¼ tsp. salt and continue stirring with tongs until spinach is uniformly wilted and glossy green, about 2 minutes. Sprinkle with almonds and vinegar; stir to combine. Drizzle with remaining 2 tsp. olive oil and season with salt to taste.
The FINAL dish – it was DIVINE!  Thank you Dee Dee!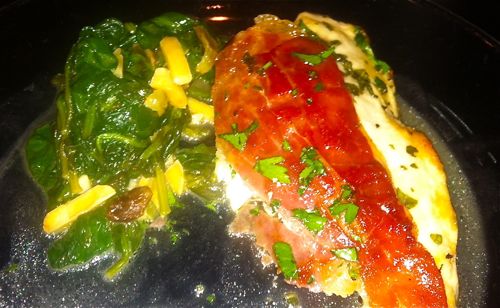 Recipes Courtesy of Village Kitchen Shoppe, 147 N. Glendora, Avenue, Glendora, Ca  91741, 626-335-3511, villagekitchenshoppe.com
Google+