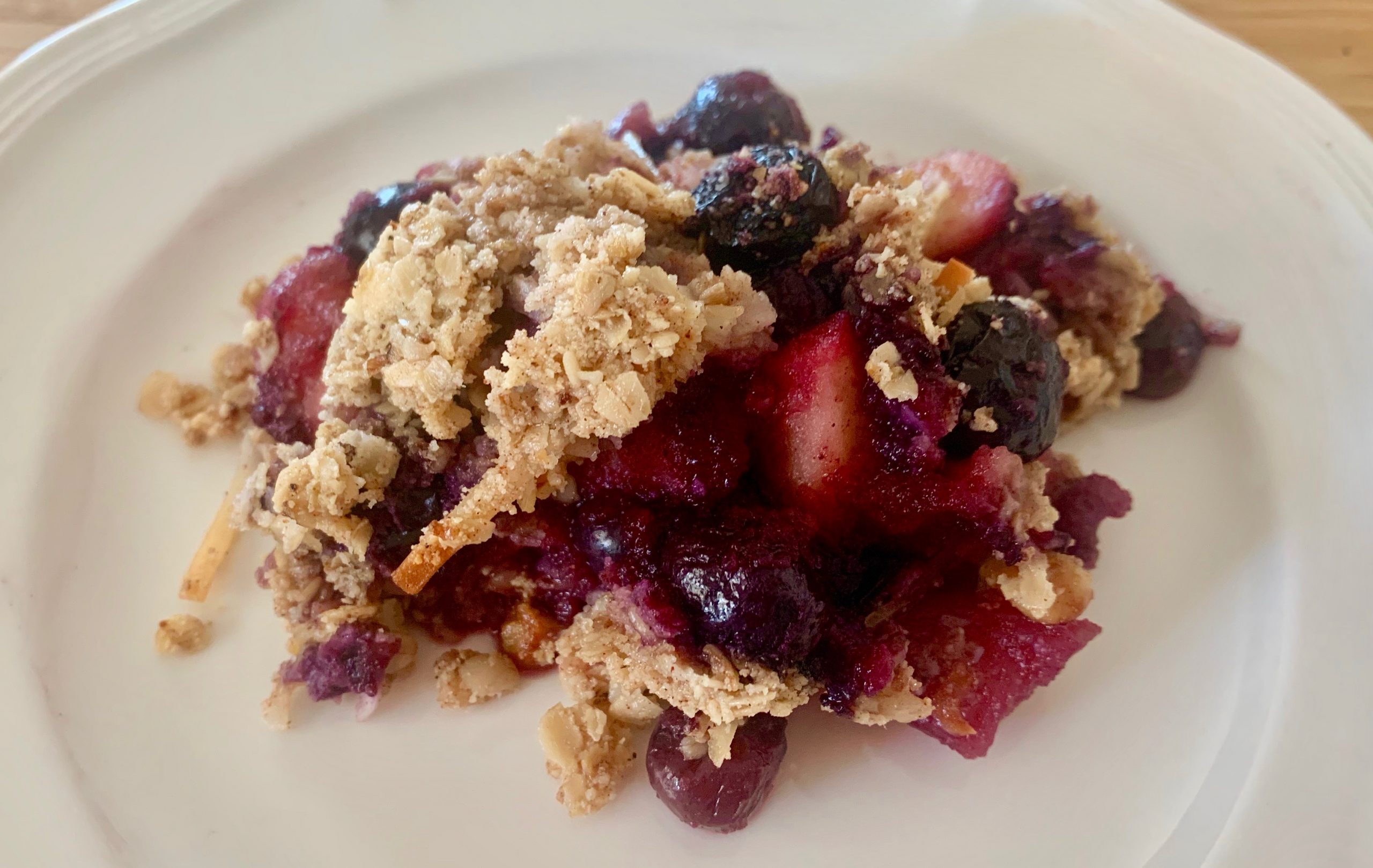 Lo-Cal Apple Blueberry Crisp
As a novelist, freelance journalist, and screenwriter, I'm usually at my desk after my morning walk. I break for lunch around noon, then usually around 4:00 pm. To mix up my day, I get creative in another way by playing with food in the kitchen. My Lo-Cal Apple Blueberry Crisp, made with all-natural, organic ingredients, and no refined sugar, can be enjoyed for dessert or afternoon tea.
For a recipe print out, search Lo-Cal Apple Blueberry Crisp on my Simply Delicious Living Blog at https://maryannspencer.com. On TV, WATCH "Simply Delicious Living" on PBS-TV (KVCR-TV) in Southern California, DirecTV, Dish Network Sunday Mornings 10:56 am to 1:00 pm.
On Your Smart TV, Computer, Phone, or other Device, Subscribe to Maryann's YouTube Channel. FREE SUBSCRIBE TO MARYANN'S LIST: https://bit.ly/2RvA3tG
***
View & Purchase Maryann's novels & cookbooks:
"Lady in the Window" Hardcover, Paperback and eBook BARNES & NOBLE: http://bit.ly/2FlOBWT AMAZON: http://amzn.to/2qD4YVO
"The Paradise Table" Hardcopy, Paperback & eBook AMAZON: https://amzn.to/2nl4XZv BARNES & NOBLE: http://bit.ly/2n0aiFw
"Simply Delicious Living with Maryann® – Entrées" Cookbook Hardcopy & eBook AMAZON: https://amzn.to/2wVSMaW BARNES & NOBLE Hardcover: http://bit.ly/36uJPRU & eBook: http://bit.ly/2PKo0ar
Ingredients
4 sweet apples (Jazz, Fuji, etc.), peeled and diced
2 T. freshly squeezed lemon juice
2 c. blueberries (fresh or frozen)
1 c. unsweetened applesauce
1 tsp. cinnamon
1 tsp. pumpkin pie spice
1/4 tsp. allspice
1 to 2 tsp. lemon extract
coconut oil (in solid form) & coconut oil spray
Topping Ingredients:
1/4 c. coconut oil (organic unrefined cold-pressed, solid) or butter

1/2 c. oatmeal (quick. oats)

1/2 c. almond meal (or whole wheat flour)

1/4 c. walnuts, chopped

1/4 c. coconut flakes


1 tsp. cinnamon

1 tsp. pumpkin pie spice
PREPARATION:
Pre-heat oven to 350 Degrees F.
Grease Pyrex dish with coconut oil.
In a bowl, add in apples, lemon juice, blueberries, applesauce, and lightly mix.
Mix in spices and lemon extract and set aside.
Add in oats, almond meal, walnuts, coconut flakes and spices.
Cut in coconut oil (in solid form) into flour mixture with two knives. Cut until butter forms into small balls.
Pour the fruit mixture (spreading evenly) into the Pyrex dish.
Spread dry mix over the top of the fruit.
Spritz the top of dish with coconut oil spray so that the topping will be moist.
Bake in the oven at 350 Degrees F for 35-45 minutes until bubbly.
Serve dish by itself (warm) and with ice cream or whipped cream (optional).
Google+