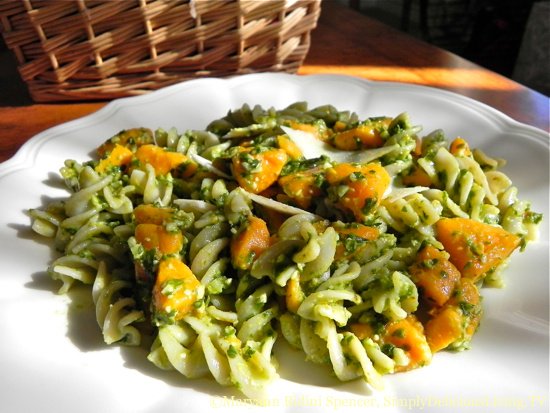 Pesto with Sweet Potato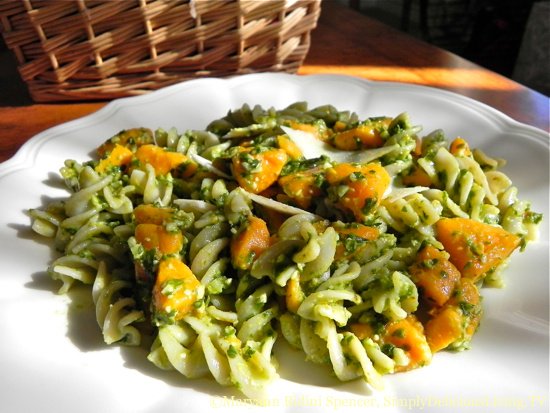 Just after the December holidays, I had some leftover pesto. I wound up serving the pesto over some pasta and chicken alongside a sweet potato. While enjoying the meal, I noticed that the flavors of the pesto and sweet potato mixed together, tasted especially fantastic. It seems like after that, every time I make pesto, I mix in some cooked sweet potatoes into the pasta. I just LOVE this combination alone and/or serve this dish with meat, fish or chicken!

Pesto with Sweet Potato
Author:
Maryann Ridini Spencer
Ingredients
4 c. fusilli pasta (for a gluten free option use a pasta made with rice flour)
3 -4 small sweet potato
2 c. fresh basil
⅓ c. walnuts (or pine nuts)
3 cloves garlic, diced
¾ c. Parmesan cheese
½ c. extra virgin olive oil
2 T. freshly squeezed lemon juice to taste
Instructions
Wash and peel potatoes.
Cut potatoes down the middle. Then cut each section lengthwise. Cut each strip of potato into pieces (small cubes similar in size).
Place potatoes in a large boiling pot of cold water on the stovetop (use enough water to cover the potatoes so there is only about an inch or so of water just above their tops). Keep pot uncovered. Boil for approximately 5 minutes. Check potatoes with a fork to make sure they are cooked and slightly soft, but not mushy.
Drain cooked potatoes and set aside.
In a food processor, add fresh basil, walnuts, diced garlic gloves, Parmesan cheese, extra virgin olive oil and lemon juice. Blend well, stopping to scrape sides. Set aside.
Prepare pasta according to package instructions.
When pasta is done, drain and place pasta into a large bowl.
Start by mixing 4 T. pesto into the hot pasta. Add more as you desire to taste.
Add in cooked sweet potatoes and mix.
Serve immediately with shredded Parmesan cheese.
Notes
Special tools for this recipe: A food processor. This recipe is delicious as a meal or a side. You can also serve it with chicken, mean or fish.
©2014 – Maryann Ridini Spencer, SimplyDeliciousLiving.com
Google+