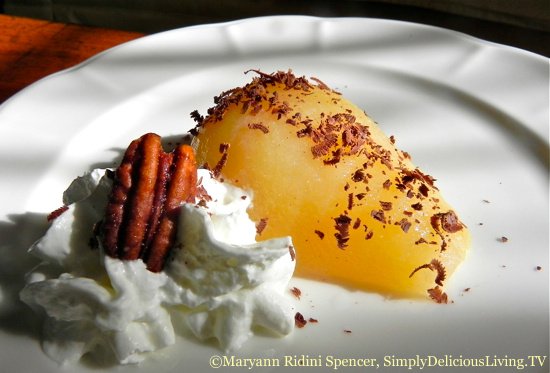 Poached Pears with Frangelico & Shaved Dark Chocolate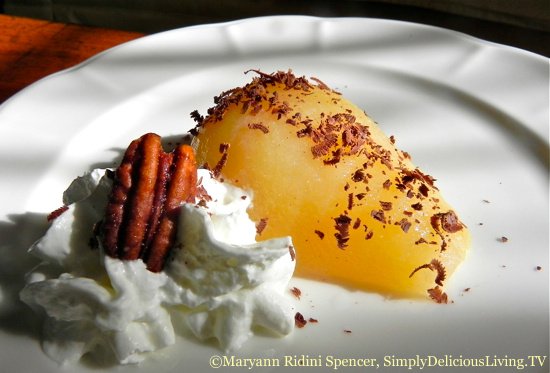 Poached Pears make such a simple, yet elegant dessert. This lovely recipe calls for Frangelico liqueur which takes like hazelnuts!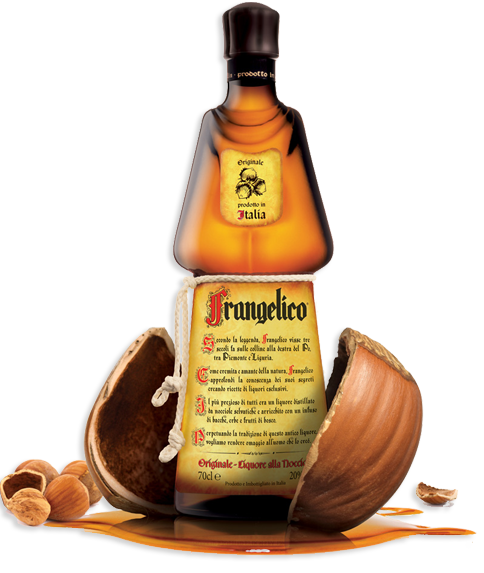 You can make this dish in 20 minutes!

Poached Pears with Frangelico and Shaved Dark Chocolate
Author:
Maryann Ridini Spencer
Ingredients
1-25 oz. jar of pear halves in white grape juice (no extra sugar added)
4 c. white grape juice
¾ c. Frangelico liqueur
1 large bar of good quality organic dark chocolate
½ c. candied pecans
Whipped Cream
2 T. organic sugar
1 c. heavy whipping cream
Instructions
In a pan on the stovetop over low/medium heat, add in pear halves (placing the flat side of the pair on the bottom of the pan).
Add in white grape juice and ½ c. Frangelico (liquid will be just over the top of the pears).
Simmer on low for approximately 20 minutes.
In a large bowl, add in sugar and cream.
Beat mixture with an electric mixer until the cream develops stiff peaks.
Set aside.
On individual plates, place one poached pear half.
Drizzle a few tablespoons of the juice over each pear.
With a spoon, drizzle approximately 1 T. of Frangelico over each pear.
Put a dollop of whipped cream on the side of each pear.
With a stainless steel shaver (chocolate or cheese shaver), shave dark chocolate all over each dish.
Place candied pecans around each dish.
Serve immediately.
Notes
This recipe serves 1 pear half per person. However, if you wish, for a party of 4, you can serve 2 pear halves.
©2014 — Maryann Ridini Spencer
Watch Simply Delicious Living with Maryann® on PBS Television in Southern California and in First Run Television Syndication.  For more information, visit:  SimplyDeliciousLiving.TV and RidiniEntertainment.com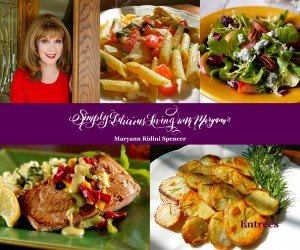 CLICK Maryann's Cookbook to VIEW a SAMPLE. Over 40+ delicious and easy-to-make entrées for people on the go!  Available Formats: Ebook, Apple iPad, Soft and Hard Cover.  For more information, CLICK HERE.
Google+