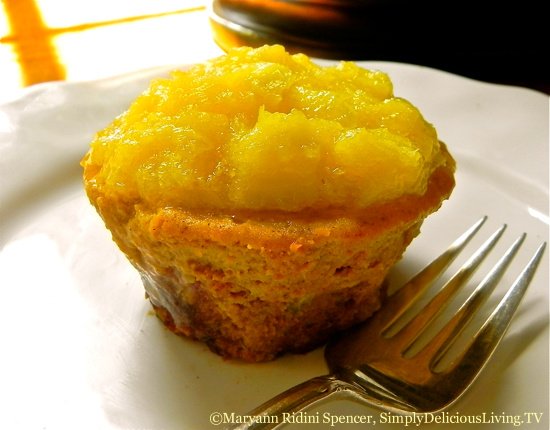 Mini Pumpkin Cheesecakes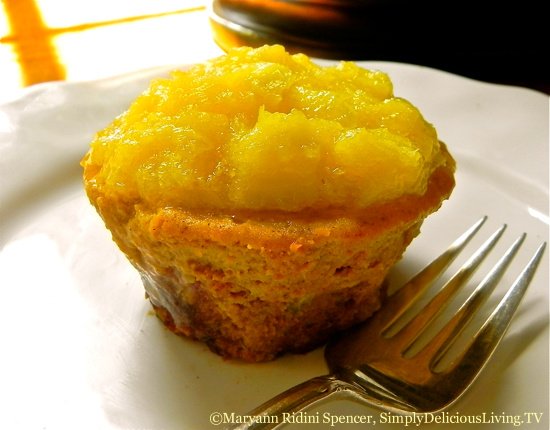 This Mini Pumpkin Cheesecake recipe has just the right amount of rich flavor (from the yummy ricotta, goat cheese and organic pumpkin)  and sweetness (from the date and walnut crust and the pineapple purée).  In addition to serving it in October, my family enjoys these mini cheesecakes as a special treat during the November-December holidays. It's such a smooth, creamy and delicious dessert that it is sure to become a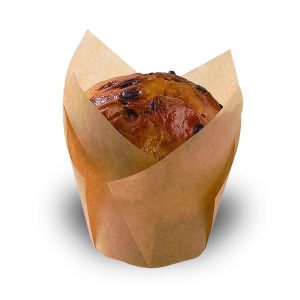 family favorite!  In the video, I make this dessert without using any muffin liners.  However, the preferred method is to use paper muffin liners for serving ease. Here's a link for some eco-friendly muffin liners from BioandChic.com.
If you LIKE the BON APPETIT apron I'm wearing in the video, they are available for purchase in our secure Simply Delicious Living Online Store.
Mini Pumpkin Cheesecakes
Author:
Maryann Ridini Spencer
Ingredients
CHEESECAKE FILLING:
1 c. ricotta (not skim)
1 c. goat cheese
1 c. pumpkin puree
¼ c. honey
3 eggs
1 tsp lemon extract
1 tsp vanilla extract
1 tsp. cinnamon
¼ tsp. ginger
⅛ tsp. cloves
⅛ tsp. nutmeg
¼ tsp. salt
CRUST:
1 ½ cups pitted dates (soak in warm water for 8-10 minutes, drain)
1 ½ cups raw walnuts
¼ tsp. lemon extract
PUREE:
2-3 c. diced pineapple
Instructions
CHEESECAKE FILLING:
In a large bowl, beat all ingredients together with an electric mixer.
CRUST:
In a Cuisinart, add pitted dates and walnuts. Blend.
PUREE:
Purée pineapples in a Cuisinart.
ASSEMBLY:
Preheat oven to 350 degrees F.
Grease muffin tin with coconut oil OR the preferred method is to use baking cup muffin liners.
Add date and walnut mixture to the muffin cup liner. Pat down mixture to form the crust at the bottom of the liner.
Pour in pumpkin cheesecake mixture in each muffin tin.
Bake cheesecakes at 350 degrees F for 25-30 minutes.
Cakes will be slightly moist in the center. Remove from oven, cool on a rack in the muffin tin, then put the cheesecakes in the muffin tin the fridge for several hours.
When ready to serve, gently remove each cheesecake from the muffin tin and place on a pretty plate. Serve immediately topped with whipped cream or pureed pineapple.
Notes
In the Pumpkin Cheesecake video, I make the cheesecakes without the muffin liners. However, the preferred (and easier method) is using muffin cup liners.
©2014 Maryann Ridini Spencer, Simply Delicious Living.com
©2014 Maryann Ridini Spencer, Simply Delicious Living.com
Google+