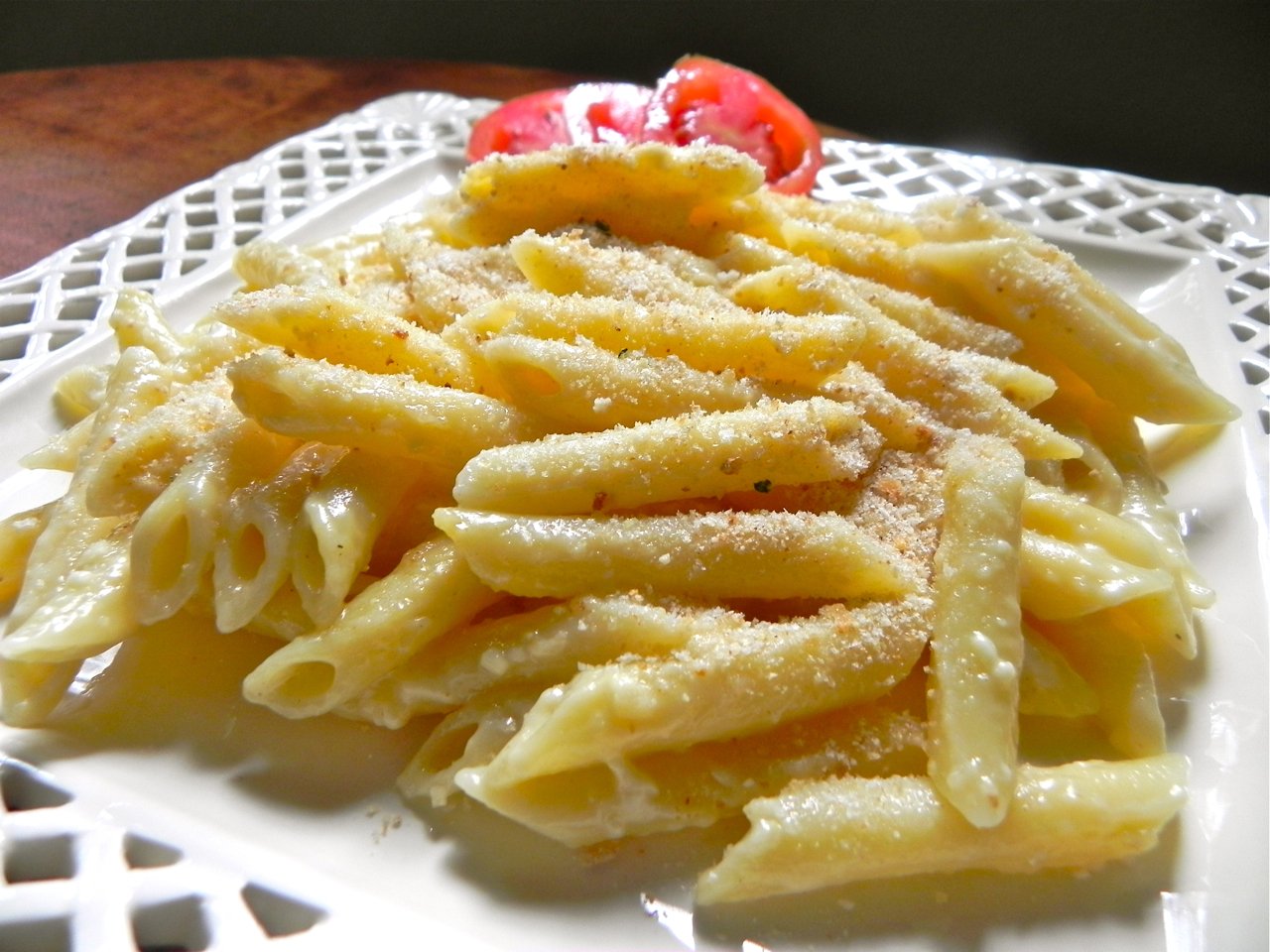 All Grownup Mac 'N Cheese
When Scott and I go out with the kids, the children always want to choose the following from the menu items ONLY:
Hamburgers
Pizza
Chicken Fingers
Pasta
Mac 'N Cheese
Now grownups may like variations on all the above and especially of late – "Mac 'N Cheese."  As a matter of fact, recently, I've noticed that every place we dine out  has a version of this yummy comfort food.
Not too long ago, I was asked if I had "my" version of this apparent staple.  At the time, I did not.  But needless to say, I do now.  It's an essential!
So here's my "All Grownup Mac 'N Cheese" — definitely for adults only!  And just why is it for adults only? Because it is definitely for the more mature and distinguished palate!
Not to mention that (at least for me) this dish is sooo exciting that it can stimulate even more than the tastebuds! It might even be the new aphrodisaic…that is, if you get excited by food!  🙂
The blend of cheeses – the rich Gruyère taste, the sharp Chedder, the hickory flavor of the Smoked Gouda, and the slight saltiness of the Parmesan, make this a decadent, flavorful and definitely "all grownup" dish.  Perfect with a Merlot or Chardonnay!
Enjoy as a meal with a green salad  (my Warm Spinach with Bacon Salad with Dijon Vinaigrette would go great…and/or my "Green Bean BFFs" recipe).   You can also serve this recipe as a side dish with a grilled steak, lemon chicken and/or baked salmon.  I'm getting hungry just thinking about these choices!

All Grownup Mac 'N Cheese
Author:
Maryann Ridini Spencer
Ingredients
3 c. of Penne or Fusilli Pasta (Note: For a gluten free option use rice pasta and use a gluten-free flour substitute for the flour required in the recipe).
1 c. shredded sharp cheddar cheese
1 c. shredded Gruyère cheese
½ c. smoked Gouda cheese
½ c. shredded Parmesan cheese
1 c. coconut milk
4 tsp. flour
2 tsp. butter
½ tsp. garlic powder
Garlic salt and Pepper to taste
dash of nutmeg
¼ c. Italian Seasoned Bread crumbs
2 T. of Extra Virgin Olive Oil
Instructions
Boil pasta in a pot on the stovetop according to box directions (adding in 2 tablespoons of Olive Oil so pasta won't stick together).
In a bowl, add in Gruyère, cheddar and Gouda cheeses and 2 T. flour. Toss well. Set aside.
In a second pot on the stovetop, warm coconut milk over low heat.
In third pot on the stovetop, place butter, melt over low heat. Stir in 2 tsp. flour. Stir.
Add coconut milk to the pot with the butter and flour. Stir.
Add in cooked pasta to the pot with the milk, butter and flour. Stir well.
Add in Gruyère cheese. Stir. Repeat procedure with the cheddar and Gouda cheeses. Stir.
Add in garlic salt, garlic powder and pepper to taste. Stir.
Pour mixture in a 1 liter (or 1 quart) baking dish.
Sprinkle Bread crumbs and Parmesan cheese over the top.
Spray top of dish lightly with canola oil and bake for 30 minutes at 350° F.
Notes
Serve immediately with a large green salad! This dish is also a great side with a meat or fish entree.
©2011 – Maryann Ridini Spencer
Google+