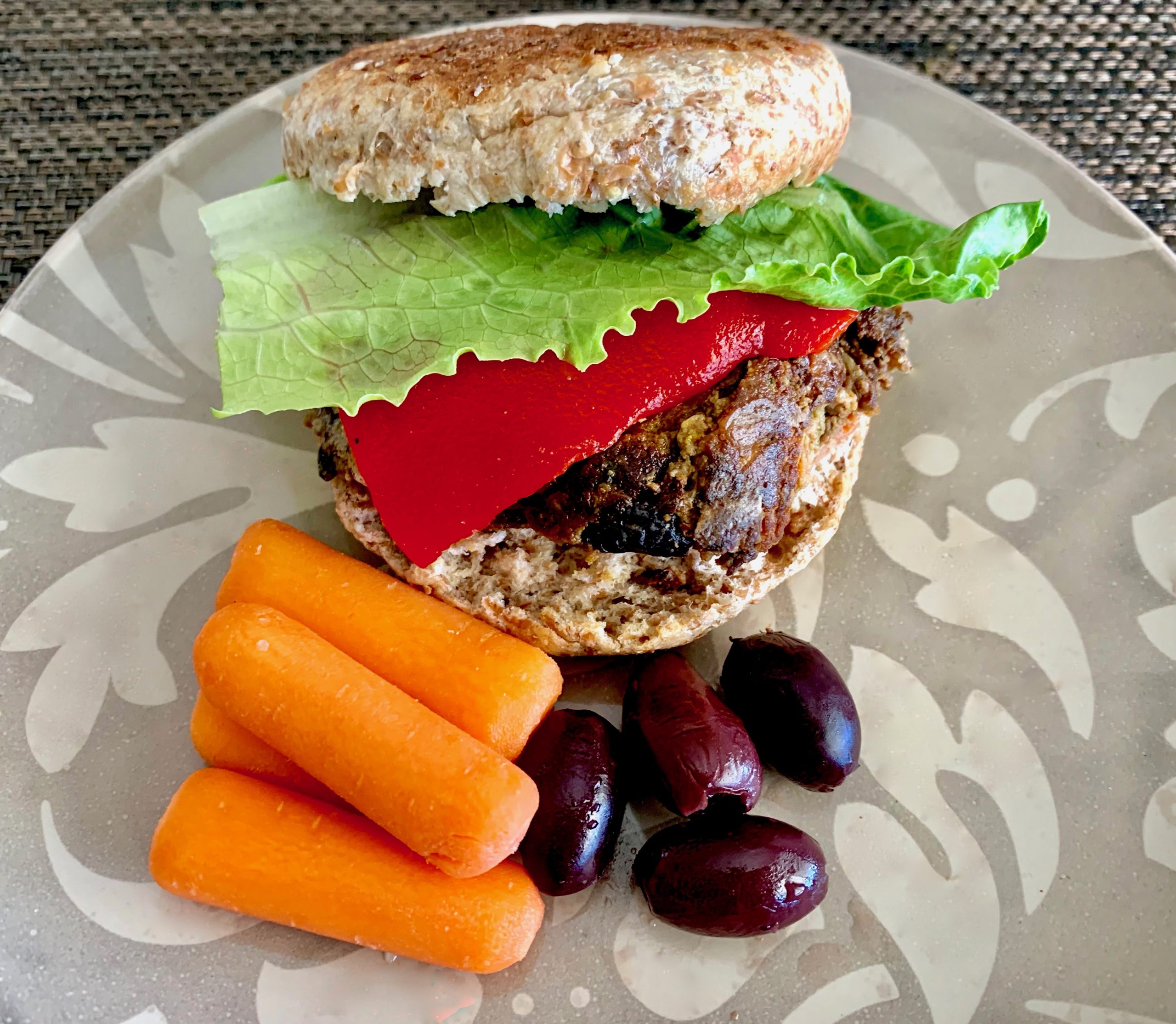 Chickpea & Black Bean Burgers
Sometimes there's no better comfort food than a burger and fries. Here's my take on a yummy burger using a host of nutritious veggies and delicious spices with the taste and texture to rival your favorite "meat" burger.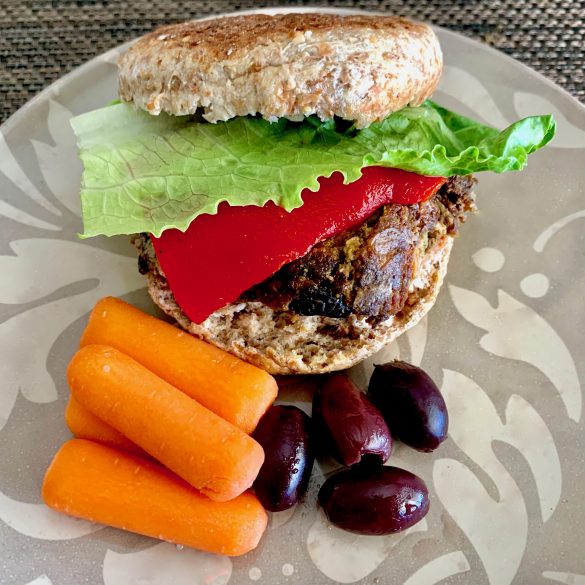 Chickpea & Black Bean Burgers
Equipment
veggie grater or mandoline slicer

parchment paper

frying pan

cookie sheet
Ingredients
1

can

organic chickpeas

1

can

organic black beans

1/2

c.

carrots, shredded

1

zucchini, grated

1 1/2

c.

pepper blend, diced

(red, green, or yellow or combination fresh or frozen)

1/2

c,

white onion, diced

3-4

garlic cloves, diced

1

small red onion, peeled & sliced

1/2

c.

almond meal

3

T.

organic chunky peanut butter

(generous portion)

3

flax seed eggs

(each egg made with 1 T. flaxseed and 3 T. water)

1-2

T.

ground red curry powder

(to taste)

1

T.

Italian seasoning

1

T.

garlic powder

1

tsp.

ground ginger

(to taste)

1-2

tsp.

chipotle spice

(to taste)

coconut oil spray

Bragg Liquid Aminos
Instructions
Preheat your oven to 350 degrees F.

On a parchment covered cookie sheet, place drained chickpeas and black beans and bake for 10 minutes (to limit moisture)

In a skillet over low heat on the stovetop, spray coconut oil over the bottom of the skillet and add in white onion, garlic, and peppers and saute until caramelized. Remove from heat.

Remove beans from oven and let cool. Once cooled, fold the parchment paper over the beans. With your hand or a mallet, smash beans (okay to leave some intact).

In a large bowl, add in smashed beans, onion and pepper mixture, shredded carrots and zucchini (use a veggie grater or mandoline slicer to shred), flax seed eggs, peanut butter, almond meal, and spices (to taste).

Form into patties. (Taste test patties and add in more spice to your palate preference).

Spray more coconut spray in skillet used to saute onions and peppers. Add in patties. Spritz some Braggs Aminos over the patties as you cook them (cook patties on both sides until slightly golden). When patties are cooked, transfer them with a pan flipper from the skillet to a large plate.

Spray more coconut spray in the skillet and add in sliced red onion. Spritz with some more aminos in the skillet and caramelize.

Serve patties warm on Ezekiel buns. Garnish with caramelized red onion, lettuce, tomato, avocado slices, Dijon mustard, and organic ketchup. Serve with a salad. This recipe also goes great with a helping of homemade baked sweet potato fries.
Notes
This recipe will make 11 medium size patties. Depending upon how large (or small) you like your patties will dictate the exact amount of patties you make.

On TV, WATCH Simply Delicious Living on PBS-TV (KVCR-TV) in Southern California, DirecTV, Dish Network Sunday Mornings 10:56 am to 1:00 pm.
On Your Smart TV, Computer, Phone, or other Device, Subscribe to Maryann's YouTube Channel. FREE SUBSCRIBE TO MARYANN'S LIST: https://bit.ly/2RvA3tG
View & Purchase Maryann's novels & cookbooks:
"Lady in the Window" Hardcover, Paperback and eBook BARNES & NOBLE: http://bit.ly/2FlOBWT AMAZON: http://amzn.to/2qD4YVO
"The Paradise Table" Hardcopy, Paperback & eBook AMAZON: https://amzn.to/2nl4XZv BARNES & NOBLE: http://bit.ly/2n0aiFw
"Simply Delicious Living with Maryann® – Entrées" Cookbook Hardcopy & eBook AMAZON: https://amzn.to/2wVSMaW BARNES & NOBLE Hardcover: http://bit.ly/36uJPRU & eBook: http://bit.ly/2PKo0ar
Google+