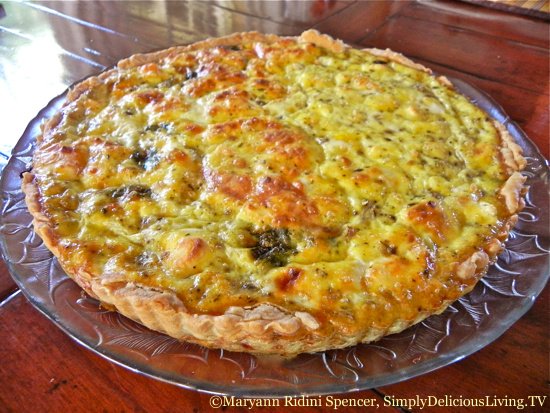 Easy Spinach, Onion & Feta Tart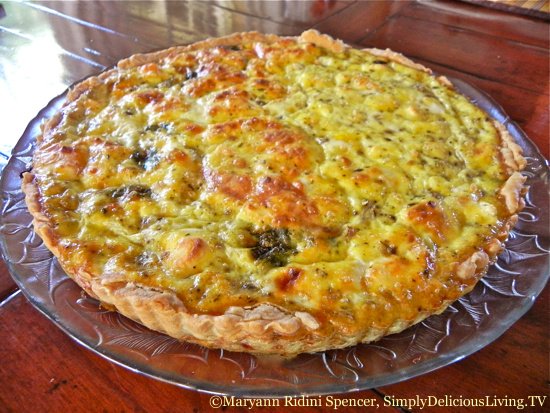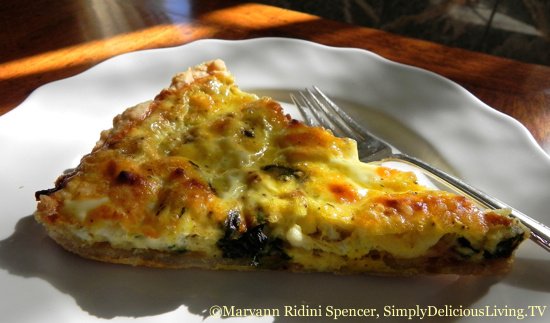 I just LOVE my new tart pan! 🙂 If you don't have one, you can find them at any kitchen goods, home store or grocery store. (They cost approximately $8-10.00). This year for Christmas brunch, I made this Spinach and Onion Tart. At my husband's request, I served it with my Pumpkin Harvest Bread. However, it's also great with some bagels, cream cheese and smoked lox. Enjoy!

Easy Spinach, Onion & Feta Tart
Author:
©2013 Maryann Ridini Spencer
Recipe type:
Breakfast or Brunch
Ingredients
1 pre-prepared organic pie crust (at room temperature)
6 eggs
2 T. flour
½ tsp. garlic salt
2 c. feta cheese, crumbled
1 small onion, sliced
4 garlic gloves, diced
1½ c. coconut milk (or regular milk)
extra virgin olive oil
Instructions
Pre-heat oven to 375 degrees F.
Remove the bottom round of the tart pan and place it on wax paper.
Trace the bottom round of the tart pan (on the wax paper) with a pencil.
With a scissor, cut the wax paper and set aside the wax paper round.
Unfold pastry dough and place into the tart pan. With your fingers, gently manipulate the dough up the sides of the tart pan. Make sure that no dough is folded over the sides of the pan.
Place the wax paper round on the dough in the bottom of the pan.
Bake in the oven for approximately 20 minutes until the moisture has gone out of the dough. The dough will also be a very light golden.
Remove pan from the oven and let it cool.
Take wax paper off of the crust and throw away.
In a skillet on the stovetop, sauté the onion and garlic in olive oil until golden.
Combine eggs, milk and garlic salt and pepper, mix well.
Toss cheese with flour.
Add cheese mixture and sautéed onions and garlic to egg mixture, pour into shell.
Bake at 375 degrees F for approximately 50 minutes until top is lightly golden. Insert a toothpick or knife into the center of the quiche and make sure it comes out clean.
Let stand 10 minutes to cool before serving. You can also serve cold. Another great tip – make this recipe a few hours beforehand and keep in the frig to let the flavors marinate. Then, heat before serving.
Notes
For additional flavor, you can also add in ½ c. sliced marinated artichokes or ½ c. sliced mushrooms (sauté either with the onions and garlic).
Nutrition Information
Serving size:
1 slice
Calories:
334
CLICK
Maryann's Cookbook
to VIEW a SAMPLE.
Over 40+ delicious and easy-to-make entrées for people on the go!
Available Formats:
Ebook, Apple iPad, Soft and Hard Cover
. For more information,
CLICK HERE.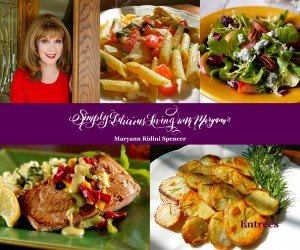 Google+