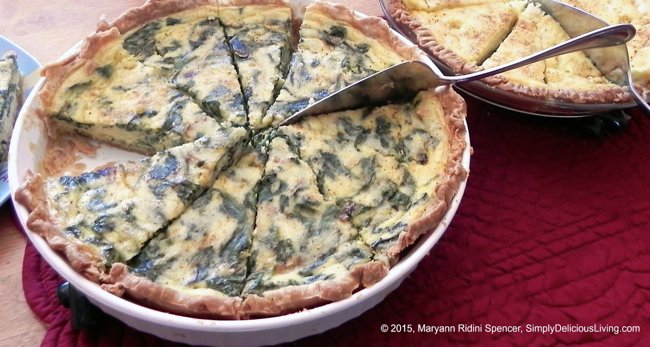 Quick and Easy Spinach Quiche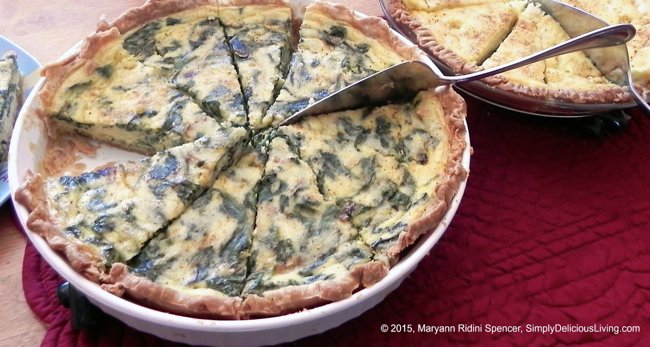 This Quick and Easy Spinach Quiche makes a perfect dish for breakfast or brunch.  Serve it hot or cold with a fresh fruit or green salad!  I also love to serve it with my Lemon Coconut Bread.

Quick and Easy Spinach Quiche
Author:
Maryann Ridini Spencer
Ingredients
1 pre-prepared organic pie crust (at room temperature)
1 small onion, diced
3 cloves garlic, diced
3 c. fresh, organic baby spinach (from a bag or fresh, not frozen)
6 organic eggs
1 ½ c. coconut milk
½ tsp. garlic salt
dash cayenne
2 T. organic flour
1 c. Gruyère cheese (shredded)
extra virgin olive oil
Instructions
Pre-heat oven to 350 degrees.
Unroll pie dough into pie shell, crimping the edges with your hand or a fork. If pie shell is pre-formed, unwrap and set aside.
In a skillet on the stovetop, sauté the onion and garlic in olive oil until golden.
Add in spinach, cook until spinach is wilted.
In a bowl, combine eggs, milk and seasoning, mix well.
In another bowl, toss cheese with flour.
Add sautéed onions, garlic and spinach to the bottom of the pie crust, spread around.
Add in cheese mixture to pie crust.
Top cheese mixture with the egg mixture. Stir gently in the pie crust.
Bake quiche at 350 degrees F for approximately 50 minutes until top is lightly golden. Insert a toothpick or knife into the center of the quiche and make sure it comes out clean.
Let quiche stand for 10 minutes to cool before serving. You can also serve cold. Another great tip – make this recipe a day before and keep in the fridge. Let the flavors marinate over night. Then, heat before serving.
©Maryann Ridini Spencer,
SimplyDeliciousLiving.com
Google+