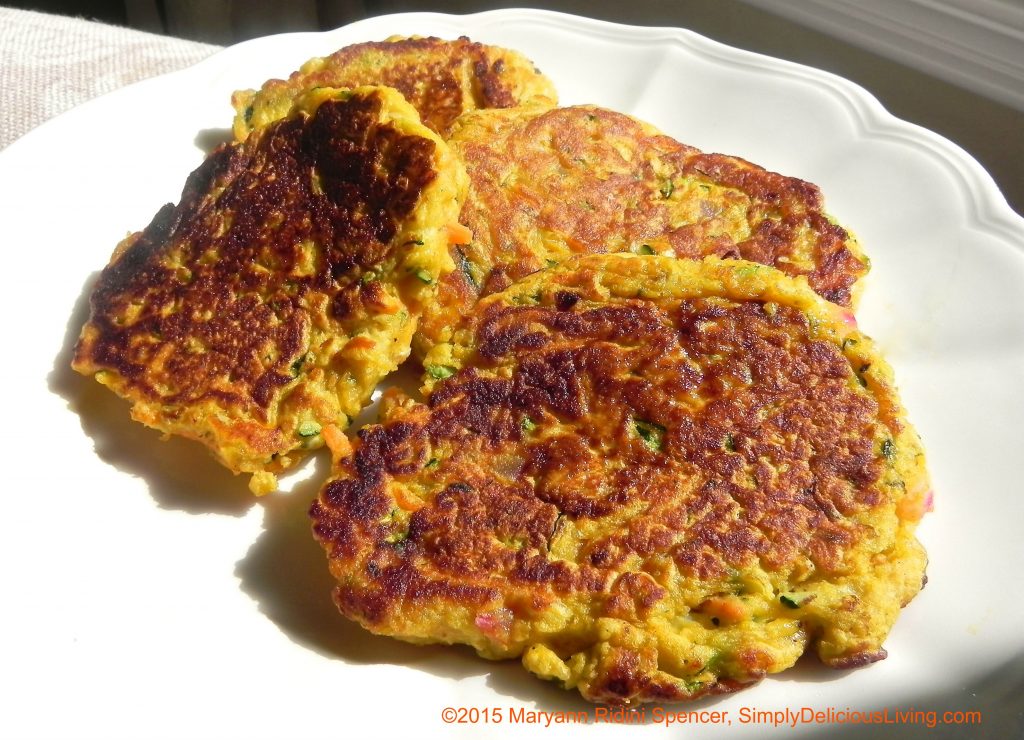 October is the month of the PUMPKIN. Here's a simple recipe you can enjoy for breakfast (with eggs) or brunch (with a large green salad). I also love this dish with a little applesauce and cinnamon as a snack!

Pumpkin Zucchini Latkes
Author:
Maryann Ridini Spencer
Ingredients
1 c. grated or shredded carrots
1 grated zucchini*
½ c. organic pumpkin
2 T. red onion, diced
2 eggs
2 T. honey
1 T. freshly squeezed lemon juice
1 tsp. baking powder
8 T. organic whole-wheat flour
½ c. panko breadcrumbs
¼ tsp. garlic salt
dash of red chili pepper flakes
dash of ground oregano
dash of ground basil
coconut oil
Instructions
In a large bowl, add in all ingredients and mix well with a fork or a spoon. The mixture will be wet.
On a skillet on the stovetop over low to medium heat, add a tablespoon of coconut oil to coat the pan.
Drop heaping spoons of the batter onto the pan to form pancakes. Cook until each side is golden brown (turning them with a pancake turner).
When cooked, set aside on a plate to serve immediately. (You can also cook same day, place in the fridge, and heat them up just before serving them).
Serve this recipe with my Chunky Applesauce and cinnamon, or Chunky Guacamole. Search these recipes on my blog, SimplyDeliciousLiving.com by putting "Chunky Applesauce" or "Chunky Guacamole" in the search bar at the top of the home page.
Notes
*Grate Zucchini with a Mandolin or with a box grater.
©2015 – Maryann Ridini Spencer, http://SimplyDeliciousLiving.com
Google+