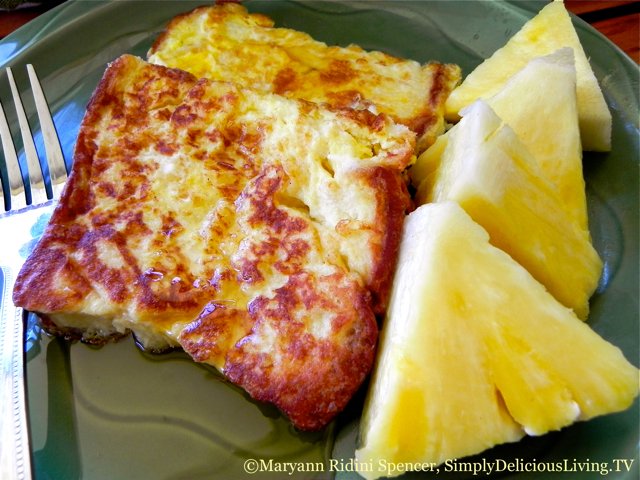 French Toast Paradise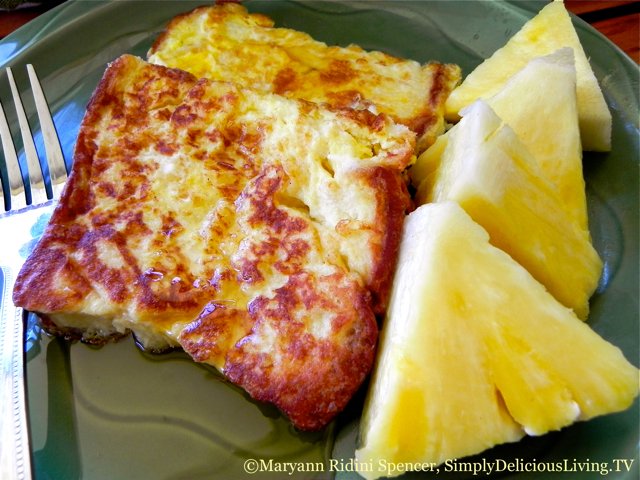 French Toast for breakfast made from Hawaiian sweetbread is one of the most delicious treats….in fact, it is mouthwatering wonderful. My family enjoys this dish whether we're at home in Ventura County or Hawaii. Try it topped with a bit of honey, cinnamon and shredded sweet coconut. It also goes great with a dollop of organic, plain yogurt and fresh cut pineapple, strawberries, bananas and/or blueberries. The good news — you don't have to live in Hawaii to purchase Hawaiian sweetbread. Look for it at your favorite grocer's and if they don't carry it, tell them they should. Here's a link to the King's Hawaiian site. Enjoy. Aloha!

French Toast Paradise
Author:
Maryann Ridini Spencer
Ingredients
8 slices of Hawaiian Punalu'u Traditional Sweetbread (or if you can't find Hawaiian Sweetbread, use Challah bread)
4 large eggs
½ c. coconut milk (approximately)
honey (for syrup)
ground cinnamon (for garnish)
shredded sweet coconut (optional)
coconut oil
Instructions
Slice Hawaiian Bread in ½″ slices.
In a skillet on the stovetop over medium heat, drizzle coconut oil to coat the bottom of the pan.
In a large bowl, whisk eggs and milk.
With a fork, dip a piece of sweetbread into the egg and milk mixture, coat well on both sides.
Place coated bread into skillet.
Repeat with each slice of bread.
Cook bread until lightly golden on both sides.
Serve immediately with honey and cinnamon.
You can also sprinkle coconut flakes over the top of the dish.
Serve with fresh cut pineapple, strawberries, blueberries or banana.
©2013 — Maryann Ridini Spencer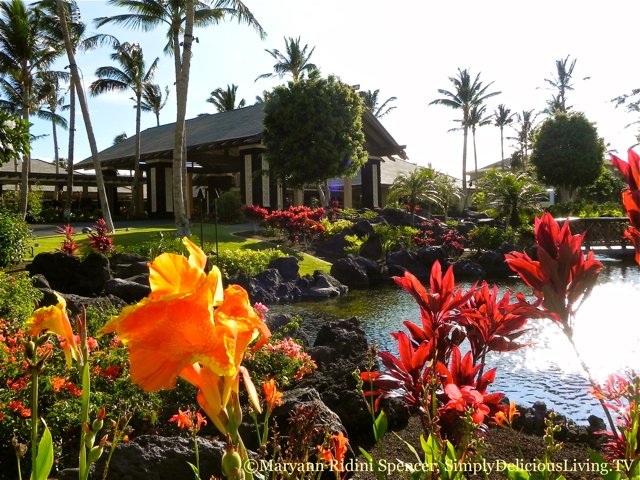 LIKE Simply Delicious Living with Maryann® on Facebook, CLICK HERE.
SIGN UP for our FREE monthly newsletter – lots of great articles, cooking videos, decorating tips and body•mind•spirit inspirations!, CLICK HERE.
WATCH US on YouTube on your computer, on your mobile device or iphone at SimplyDelishLiving Channel (and/or Maryann Ridini Spencer)
WATCH Simply Delicious Living with Maryann® on PBS Television in Southern California and in First Run Television Syndication. For more information, visit: SimplyDeliciousLiving.TV and RidiniEntertainment.com
Google+