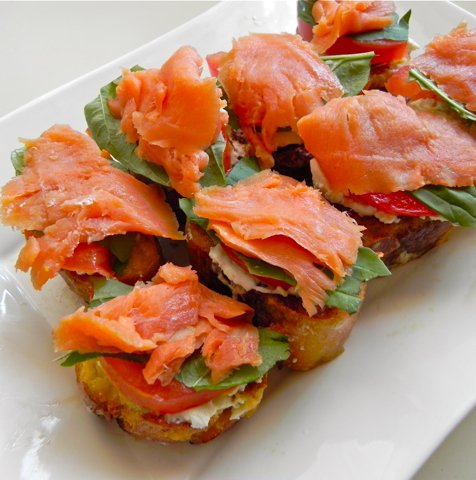 French Toast To Die For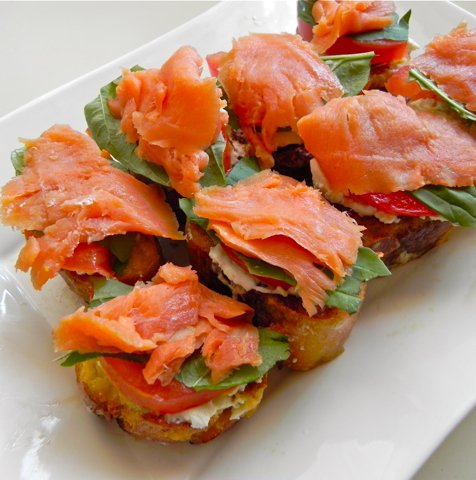 On Sunday mornings, I love having French Toast for breakfast. Usually, I use wheat or rice bread. However, I recently happened to have some sourdough French baguette in the kitchen and thought I'd try making french toast with it. One thing led to another as I eyed the smoked salmon and goat cheese in the frig… et Voilà! "French Toast To Die For" was born!
French Toast To Die For
Author:
Maryann Ridini Spencer
Ingredients
1 Sourdough French Baguette
1 – 4 ounce Goat Cheese log (Montchevré or other)
5 ounce(s)Smoked Wild Salmon
20 Fresh Whole Basil Leaves
5 Roma Tomatoes
1 cup(s) Capers in vinegar (Optional)*
1 cup(s)Milk
2 Large Eggs
2 tbsp.Extra Virgin Olive Oil
Instructions
Cut French Baguette into 1″ pieces. Set aside.
Slice smoked salmon into individual pieces that will fit on top of the individual baguette slices. Set aside.
Slice Roma tomatoes into thin slices. Set aside.
In a bowl, pour in milk and beat in two eggs with a fork.
On the stovetop, over medium heat, pour olive oil into a frying pan.
Pick up a piece of baguette with a fork and dip into the milk and egg mixture. Make sure both sides are well coated.
Place in the frying pan.
Repeat with all the baguette slices, turning them over so that both sides are cooked to a golden brown.
Place cooked pieces of baguette on a pretty serving plate.
Put a generous helping of goat cheese and spread over each baguette piece.
Place a tomato slice on top of each baguette piece.
Place a basil leaf on top of the baguette covered with goat cheese.
Place salmon slice (s) on top of tomato slice.
Take a teaspoon of capers and put a few capers on each baguette piece Repeat until each piece of baguette has a few capers. (*Optional)
Serve French Toast to Die For at room temperature or chilled for breakfast (with or without eggs) or for lunch or dinner with a green salad. It also makes a great appetizer or snack.
©2011 — Maryann Ridini Spencer
Google+