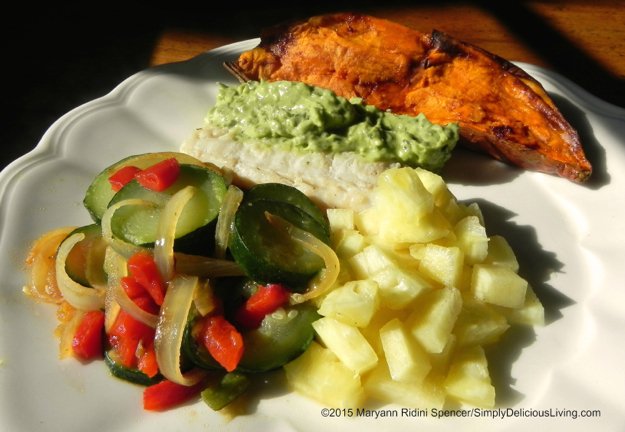 Fresh Cod Fillets with Avocado Basil Pesto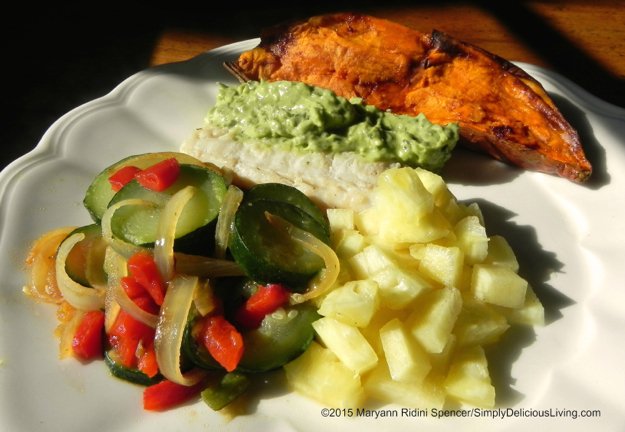 Freshly caught fish is an amazing source of protein, Omega-3 fats (the good kind of fat!), iodine, vitamin B-12, and other wonderful nutrients. We love having fish for dinner in our house, and because of this, I'm constantly looking to mix up the salsas, sauces, tastes, and textures. This dish is easy to make and the flavors blend beautifully for an extremely satisfying and healthy meal.

Fresh Cod Fillets with Avocado Basil Pesto
Author:
Maryann Ridini Spencer
Ingredients
AVOCADO BASIL PESTO
2 c. fresh basil
⅓ c. raw walnuts
2-3 cloves garlic
½ c. Parmesan Romano Cheese Blend
2 large avocados
½ c. extra virgin olive oil
2 T. freshly squeezed lime juice
salt and pepper to taste
VEGETABLE MEDLEY
3 Italian zucchini squash, sliced thin with skins on
1 small onion, peeled and sliced
½ c. fire roasted red peppers, diced
1½ T. extra virgin olive oil
salt and pepper to taste
FRESH COD FILLETS
3 or 4 Fresh, Wild Caught Cod Fillets
2 T. coconut oil
2 T. freshly squeezed lime juice.
Garlic salt and pepper
EXTRAS**
Baked sweet potatoes
Freshly diced pineapple chunks
Instructions
AVOCADO BASIL PESTO
Cut avocados in half and scoop out the insides with a spoon.
Discard avocado pit.
In a Cuisinart or other blender, blend all ingredients, set aside until the cod is ready.
VEGETABLE MEDLEY
Steam zucchini squash in a steamer until squash is soft, but still firm.
In a skillet on the stovetop over medium heat, add in extra virgin olive oil.
Add in onions and sauté until slightly golden.
Add in steamed squash, peppers and a dash of salt and pepper. Mix in the pan and sauté for approximately 1 minute. Keep warm.
COD FILLETS
In a skillet on the stovetop over medium heat, add in coconut oil. Place cod fillets in the pan and sprinkle with garlic salt and pepper.
Cook fish until done on both sides (the fish will be slightly golden).
Pour lime juice over the fish and let fish simmer another minute.
Remove fish from flame when done.
CREATING THE PLATE
Place cooked cod on the plate.
Put a generous dollop of pesto on top of the fish.
Surround fish with vegetable medley and fresh, diced pineapple.
Serve with baked sweet potato sprinkled with cinnamon.
Notes
**EXTRAS: If you are serving this dish with baked sweet potatoes, start to bake potatoes in the oven before you prepare the other elements of this dish! Instead of the potatoes, you might also serve this dish with pasta, adding a dollop of the pesto to the pasta as well.
©2015 Maryann Ridini Spencer/SimplyDeliciousLiving.com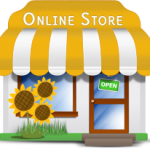 Visit the
Simply Delicious Living Store!
Google+