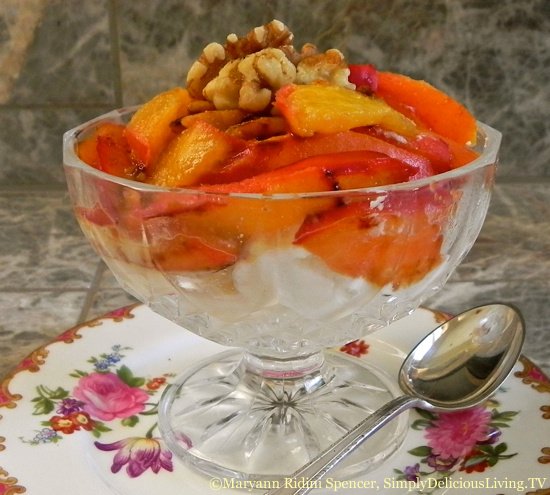 Nectarine Flambé with Sweet Ricotta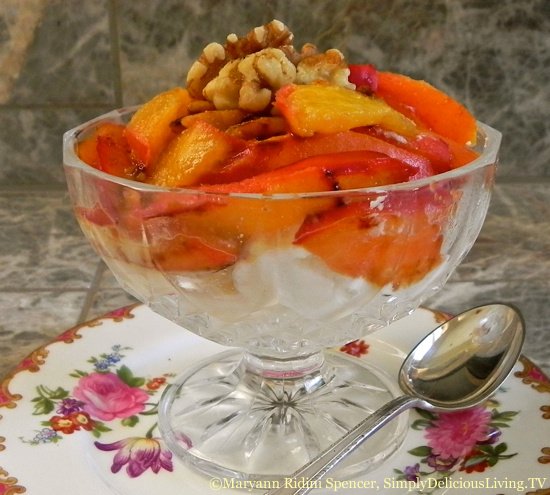 Here's a simply yummy tasting dessert that you can whip up in minutes.  It's light and extremely satisfying and flavorful, not to mention low in calories!

Nectarine Flambé with Sweet Ricotta
Author:
Maryann Ridini Spencer
Ingredients
2 nectarines (ripe but not soft), sliced thin
1 c. whole milk ricotta cheese
½ tsp. honey
2 T. freshly squeezed lemon juice
3 T. Frangelico liqueur*
4 walnuts
Instructions
In a bowl, add in ricotta cheese.
Mix honey into the ricotta cheese.
Place even amounts of cheese into two pretty bowls or serving cups. Set aside.
In a skillet on the stovetop over low heat, add in lemon juice and sliced nectarines.
Cook and stir mixture for several minutes, nectarines will be soft but not too soft.
Add liqueur to the pan. Stir the liqueur around the nectarines.
After about 1 minute, when liqueur is heated, light a very long match and carefully pass the flame over the pan. The liqueur will ignite.
Let the flame will die down.
Stir mixture.
Spoon a generous helping of warm nectarines and liqueur over each dish of ricotta.
Top each dish with walnuts.
Serve immediately!
Notes
*Some additional flavorful ideas: Frangelico tastes like hazelnuts. If you prefer an almond taste, you might want to try this recipe with Amaretto instead. Some folks also enjoy the flavor of Rum. Whatever works for you! This recipe also tastes wonderful with a dollop of whip cream on top of the nectarines, then topped with the walnuts.
©2014 Maryann Ridini Spencer, SimplyDeliciousLiving.com
Google+