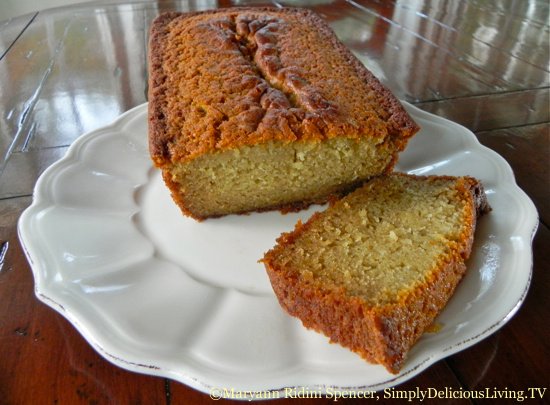 Pear and Almond Pound Cake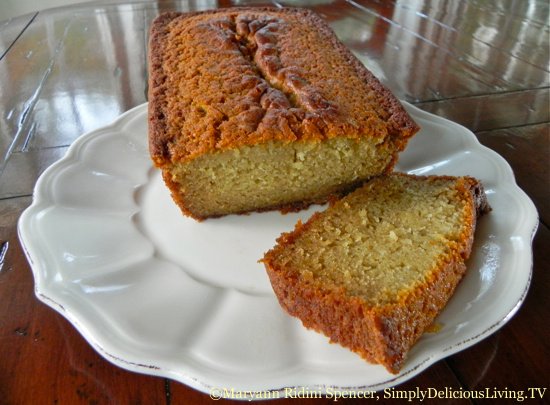 This Pear and Almond Pound Cake recipe is so moist and tasty with subtle flavors of pear, almond, vanilla and coconut. It's full of great ingredients with natural antibiotic properties (raw honey, coconut oil, pear and ginger), that aid in supporting your immune system and that also taste great. So, enjoy!

Pear and Almond Pound Cake
Author:
Maryann Ridini Spencer
Ingredients
1½ c. Pure Pantry All-Purpose Baking Flour (gluten free) or Whole Wheat Flour
¾ tsp. baking powder
½ tsp. ground ginger
¼ tsp. salt
1 c. coconut oil
½ c. raw honey
½ c. organic sugar
4 eggs
1 tsp. vanilla extract
2 tsp. almond extract
3-4 pears (to make 1 c. pear purée)
Instructions
Preheat the oven to 325 Degrees F.
Grease and flour a 9-inch by 5-inch loaf pan.
In a medium size bowl, add in flour, baking powder, ginger and salt.
In a large bowl bowl, add in coconut oil, honey and sugar and beat with an electric mixer until fluffy (approximately 3 minutes).
In a large bowl, combine eggs, almond and vanilla extract. Beat with a fork.
Slowly pour egg mixture into the large bowl with the coconut oil/honey mixture. Beat with an electric mixer, scraping sides.
Peel and slice pears. Throw away the cores. Purée pears in a blender. (They will become a smooth consistency).
Add in pear purée to the coconut oil/honey mixture. Beat again.
Slowly add in flour mixture (in quarters) to the oil and egg mixture. Beat well with an electric mixer after each addition.
Pour batter into the greased and floured pan.
Bake in the oven for approximately 1 hour and 10-15 minutes. The cake will be golden. Insert a knife or toothpick into the center of the cake to make sure the cake is done. The knife or toothpick will come out slightly moist, but not with ingredients stuck to it.
Let cake cool in pan for 15 minutes.
Remove from pan and let it cool on a baking rack for another 10-15 minutes.
Serve warm or cold! Eat as is or topped with a little more honey or even a dollop of vanilla bean So Delicious Coconut Milk Frozen Dessert!
©2014 – Maryann Ridini Spencer,
SimplyDeliciousLiving.com
Watch Simply Delicious Living with Maryann® on PBS Television in Southern California and in First Run Television Syndication. For more information, visit: SimplyDeliciousLiving.TV and RidiniEntertainment.com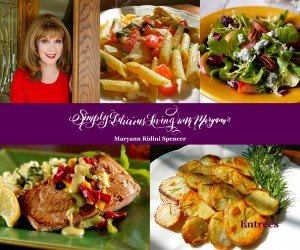 CLICK Maryann's Cookbook to VIEW a SAMPLE. Over 40+ delicious and easy-to-make entrées for people on the go! Available Formats: Ebook, Apple iPad, Soft and Hard Cover. For more information, CLICK HERE.
Google+