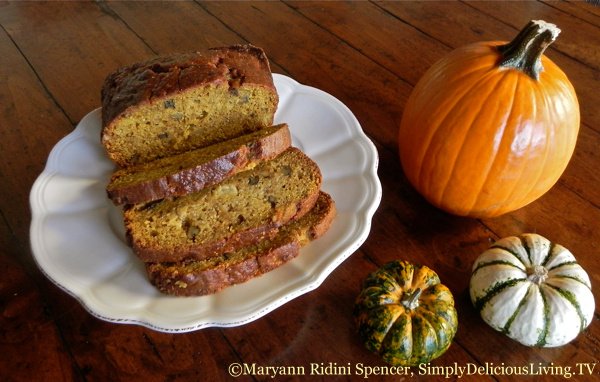 Pumpkin Harvest Bread
This morning, I opened the French doors leading out from the house to the orchard. As I stepped onto the patio, the sun shone bright and felt warm on my skin. A gentle breeze danced through the trees as I took a deep breath and inhaled the clean, crisp air. Ah, harvest time is here! Time to enjoy the wonderful tastes and aromas of cinnamon, cloves, allspice, nutmeg and pumpkin! As it was Sunday morning, after a brief walk in nature, I headed toward the kitchen already plotting our family brunch. To break the fast, today it would be a delicious Class Quiche Lorraine made with Gruyère cheese, a lovely Simple Side Salad and my Pumpkin Harvest Bread (recipe below).
This Pumpkin Harvest Bread Recipe is wonderful to enjoy with breakfast or brunch, or with afternoon tea. It's delicious by itself, or with a dab of butter, cream cheese, goat cheese or a bit of honey! Every bite will get you in the harvest and holiday spirit! Enjoy it throughout the season and into the New Year!
Pumpkin Harvest Bread
Author:
Maryann Ridini Spencer
Ingredients
1 ¾ c. flour (gluten free option - Pure Pantry's Organic All Purpose Baking Mix)
1 tsp. baking powder
1 tsp. baking soda
½ tsp. ground cinnamon
½ tsp. ground nutmeg
½ tsp. ground cloves
½ tsp. salt
1 heaping cup of canned organic pumpkin
3 eggs
½ c. coconut oil
1 ½ c. sugar
1 tsp. lemon extract
¾ c. diced pineapple
½ c. walnut pieces (or ½ c. dried cranberries)*
Instructions
Preheat oven to 350 degrees F.
Grease and flour a 9" by 5" loaf pan.
In a large bowl, add in flour, powder, soda, cinnamon, nutmeg, cloves and salt.
In another large bowl, add in pumpkin, eggs, coconut oil, sugar and lemon extract and beat with an electric mixer for about 1 minute.
Add the dry ingredients to the pumpkin mixture and beat again with the electric mixer for about 1 minute or so.
Using a rubber spatula, fold in diced pineapple and walnut pieces. (Only a few strokes, don't over mix).
Spoon the thick batter into the greased and floured loaf pan.
Bake bread for approximately one hour. It will develop a crust. Insert a toothpick into the middle of the bread to make sure it comes out clean.
Let pan cool in the tin for approximately 15 minutes.
When bread is cooled, gently remove the bread from the pan by gently flipping the pan over (you can use your hand or a plate to grab the bread) and place bread on a plate to cut and serve.
Notes
*I love making this recipe with dried orange flavored cranberries that I get from
Trader Joe's
. However, if you don't happen to have a Trader Joe's near you, just use dried cranberries!
©2013 – Maryann Ridini Spencer/SimplyDeliciousLiving.com
Google+