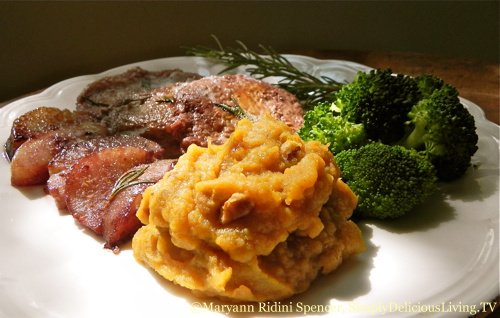 I love everything pumpkin – pumpkin pie, pumpkin cake, pumpkin pancakes, pumpkin muffins and bread.  Here's a wonderful side dish to serve with grilled fish, chicken or pork – Pumpkin Pecan Mashed Potatoes.  Serve it for Thanksgiving and it's sure to become a family "favorite" side dish.  (PICTURED ABOVE: This side dish also goes great with my Pork Chops with Pears and Cabernet Sauce and a side of steamed broccoli (with a splash of freshly squeezed lemon juice).

Pumpkin Pecan Mashed Potatoes
Author:
Maryann Ridini Spencer
Ingredients
2 Russet potatoes, peeled and cut into cubes
1 c. organic pumpkin
½ tsp. pumpkin spice
¼ tsp. cinnamon
½ tsp. lemon extract
2 ½ T. brown sugar
3 T. coconut milk
¼ tsp. salt (optional)
¼ c. candied pecan pieces
Instructions
In a pot on the stove top, add in water and boil potatoes until soft.
In a separate pot, add in pumpkin and cook over low heat for approximately 5 minutes then set aside.
When potatoes are cooked, drain them. Put the potatoes in a large mixing bowl.
Add the cooked pumpkin, pumkin spice, cinnamon, lemon extract, brown sugar, salt, and coconut milk to the potatoes.
Mix ingredients with an electric mixer until smooth.
Add in pecan pieces. Mix pecans into the mixture with a wooden spoon.
Serve hot!
©2013 — Maryann Ridini Spencer
Google+