At Thanksgiving and during the holiday season, my family loves to get together and PARTY!  Here's a delicious, easy-to-make appetizer to share with your family and friends:  Roasted Potatoes with Cheese, Dill & Dijon.  Video Brought to you by Jarlsberg USA.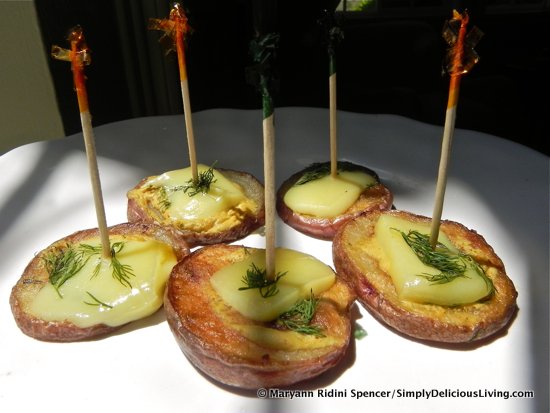 Roasted Potatoes with Cheese, Dill & Dijon
Author:
Maryann Ridini Spencer
Ingredients
5-6 small red Idaho potatoes, sliced into small circles
fresh rosemary sprigs
garlic salt and pepper
extra virgin olive oil
canola spray
fresh dill sprigs
Classic Jarlsberg Cheese, cut into cubes (enough cubes for all the potato rounds)
decorative toothpicks
Instructions
Preheat oven to 425 degrees F.
On a cookie sheet or small roasting pan, drizzle olive oil over the bottom of the pan.
Cut potatoes into small rounds.
Place potatoes on the greased pan.
Sprinkle Fresh rosemary sprigs on top of the potatoes.
Sprinkle garlic salt and pepper over the potatoes.
Spray canola oil over potatoes.
Bake potatoes in the oven for approximately 25 minutes (or until golden brown).
When potatoes are done, let them cool just a bit, then place them on a pretty plate.
With a knife, spread a little bit of Dijon mustard over the potato tops.
Add dill sprigs to the tops of the potatoes.
Add a cube of Jarlsberg cheese on each potato round.
Place a decorative toothpick in the center of each round.
Notes
Note: Serve this appetizer hot or cold. If you'd like to warm them, warm them up in the oven or microwave before adding the toothpicks.
©2013 – Maryann Ridini Spencer/
SimplyDeliciousLiving.com
Google+