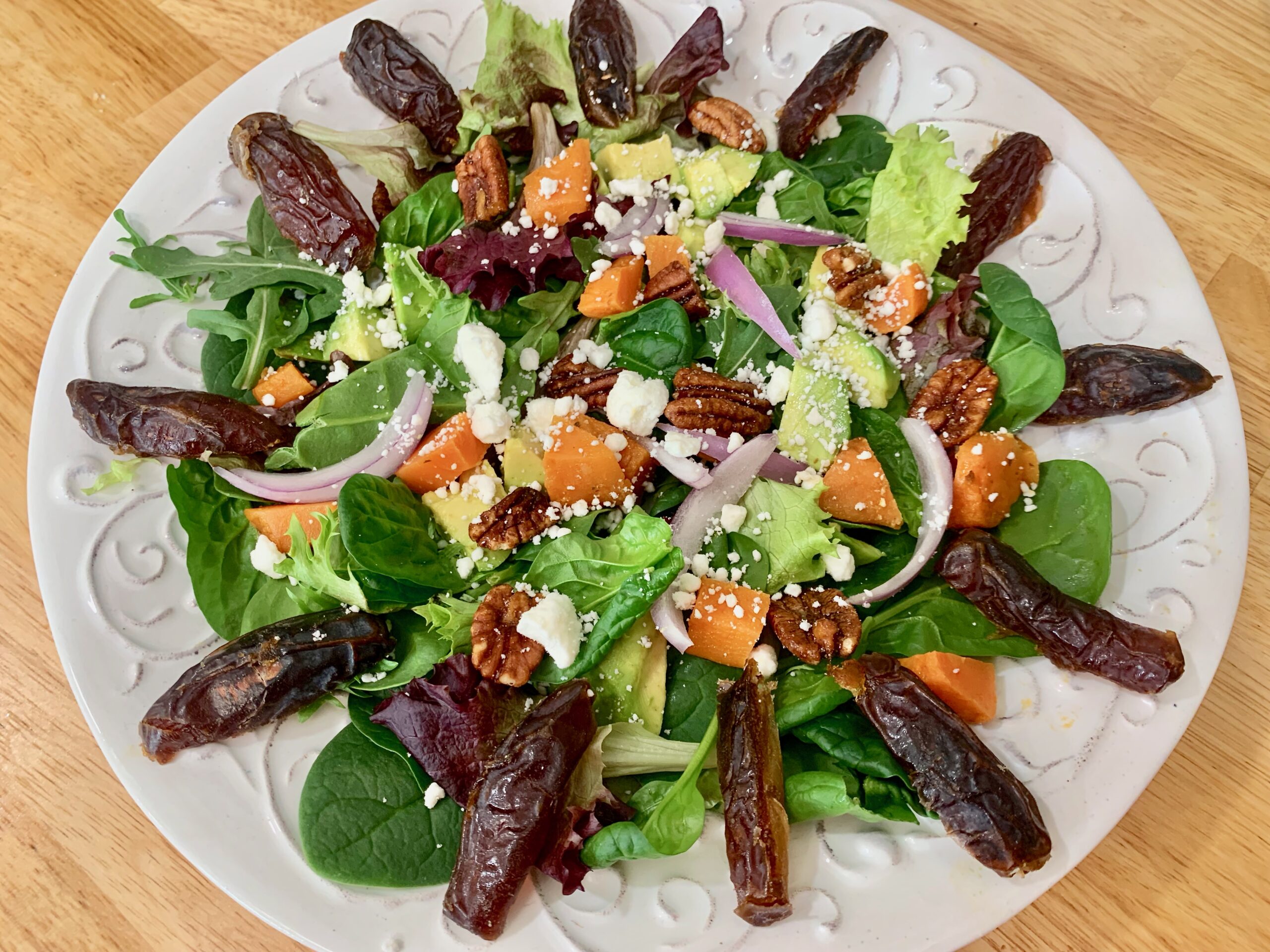 Date & Pecan Salad
I recently attended the 2023 Riverside County Fair & National Date Festival presented by Fantasy Springs Resort Casino. The iconic event, which took place on the Riverside County Fairgrounds in Indio, CA, featured fantastic rides and a variety of entertainment and musical events, and guests also treated themselves to their favorite fair foods along with new delicacies. This year's menu included Date Shakes, Bacon Wrapped Dates, Milk Tea with Date syrup, Date Nut Bars, Date Tea, Date Brownies, Date Parfait, Date BBQ Sauces, Date Hot Sauce, and a variety of locally-grown Coachella Valley Dates. The Cooking Channel's "Carnival Eats" production crew spent four days filming tasty treats for three episodes that will air this summer. Grazing through the fair, I fell in love (and purchased) Medjool dates from Candy's Dates because I knew I could use them in various culinary creations. Candy's Medjool dates are so moist, subtly sweet, and delicious. They're simply outstanding in my Date & Pecan Salad!
Date & Pecan Salad
Ingredients
1

bag

Spring lettuce mix

1

avocado, diced

1.5

c.

roasted sweet potatoes, peeled and cubed

3

T.

red onion, sliced

1/4

c.

candied pecans

4

Medjool dates, quartered

1/4

c.

goat cheese (or feta or Vegan cheese)

1/2

c.

lemon juice
Instructions
Arrange on a large plate (or in a large bowl), add greens.

Arrange on top of the greens (or add in to the large bowl) avocado, sweet potatoes, onion, pecans, and date slices.

Serve with your favorite vinaigrette, oil & vinegar, or just fresh lemon juice.
Google+