Mushroom, Goat Cheese & Arugula Salad
After a busy day on the set or at the office, I love to whip up a delicious salad with many crunchy veggies, nuts, and a selection of greens—among other tasty ingredients. This recipe was born from what I had in my fridge. It's so tasty, satisfying, simply delicious, and easy to make!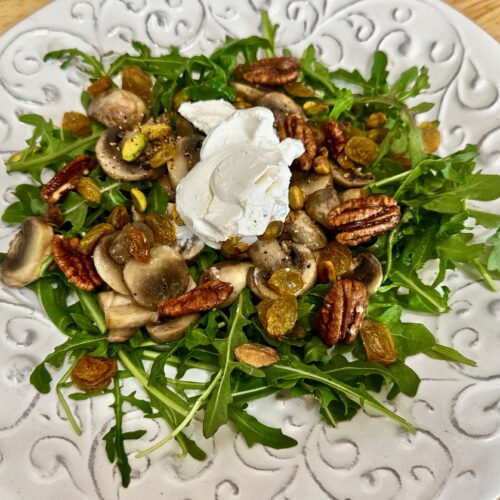 Mushroom, Goat Cheese & Arugula Salad
Ingredients
2

c.

mushrooms

1

bag

arugula

2

T

Vegan butter (or other)

1/4

c.

water

1/4

c.

Chardonnay

1/2

c.

golden raisins

1/2

c.

lightly salted and shelled pistachios

1/4

c.

candied pecans

1/4

tsp.

garlic salt

1/4

tsp.

lemon pepper

3

T.

freshly squeezed lemon juice

1

T.

extra virgin olive oil

1

T.

Vegan goat cheese (or a dairy-based goat cheese to preference (suggested 1-1.5 T. per serving)
Instructions
Melt butter in a skillet on the stovetop over medium heat.

Add in mushrooms, water, and wine, and saute until soft (but not mushy).

Plate a bed of arugula (on a large plate for multiple servings or one dish per person.

Top arugula with mushrooms.

Sprinkle raisins, pistachios, and pecans over the salad.

Sprinkle salt and lemon pepper over the salad.

Squeeze lemon juice over the salad plate.

Drizzle olive oil over the salad.

Place a dollop of goat cheese in the center of the salad.

Serve as a meal, a side dish, or with your favorite protein.
Google+